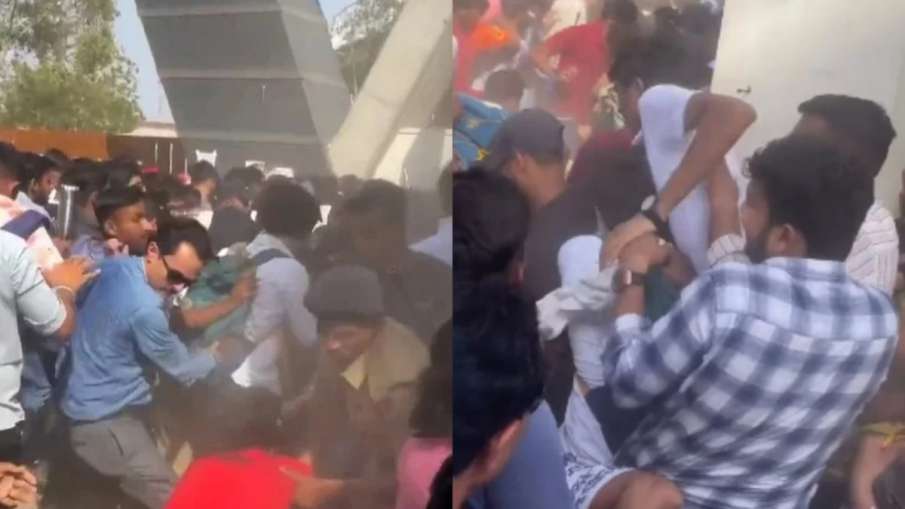 IPL 2023 is in its final stages. Qualifier 2 match will be played today between Mumbai Indians and Lucknow Super Giants. Whichever team wins in this match will get the ticket for the final, while the journey of the losing team will end here. The winning team will play the final match against Chennai Super Kings. Both the qualifier 2 and the final match will be played in Ahmedabad. Fans are finding it very difficult to get tickets for both these matches. Everyone wants to get tickets for both these matches. But seeing the pictures and videos that surfaced outside the Ahmedabad stadium before the qualifier match, every fan's concern will increase.
fans fighting each other
Ahead of the match between Gujarat Titans and Mumbai Indians, fans flocked in large numbers outside the Narendra Modi Stadium and were seen climbing over each other to get tickets. Some even fought with each other. These pictures raise questions on the management of IPL and stadium. Tickets for these matches are available online, but still it has been made necessary to get online ticket slips from the counter. Due to this, there was a lot of crowd outside the stadium and only one counter is open in the stadium. In such a situation, it is obvious that there will be a scuffle outside the stadium.
Questions raised on BCCI
In a video going viral on social media, it can be clearly seen that many fans were injured during the scuffle and some women are also seen screaming. After this video went viral, the fans are taking classes on the management of BCCI and IPL. Since this video went viral, no update has been given by any official till now.