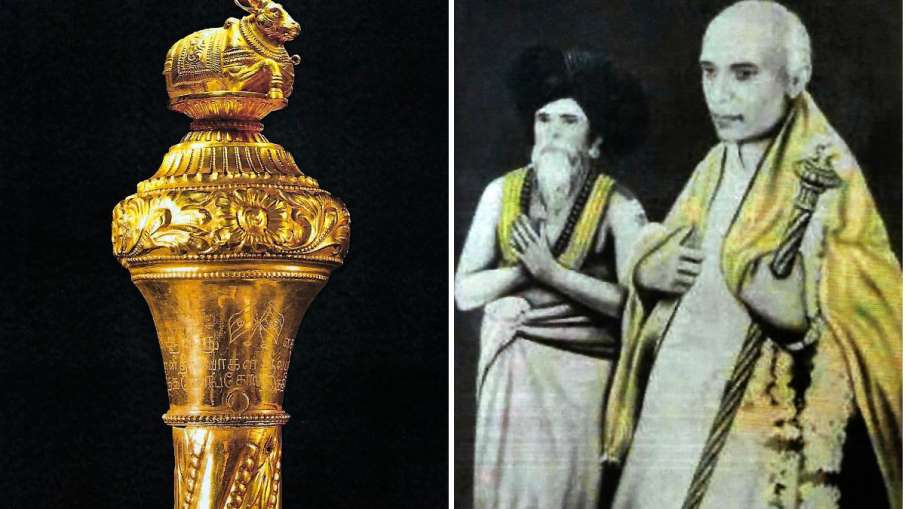 New Delhi: Less than 48 hours are left for the inauguration of the new Parliament, but politics is at its peak regarding this. Earlier the issue of inauguration with the President was made, now Modi's opponents are talking in one voice about Sengol. Now a new twist has come in the controversy of setting up Sengol in the new Parliament House. New evidence has come to the fore of handing over Sengol to Pandit Jawaharlal Nehru. As a symbol of transfer of power, the country's first Prime Minister Jawaharlal Nehru was handed over Sengol i.e. scepter. This is also being revealed from a report of Time magazine. The report published in TIME magazine on August 25, 1947 has come to the fore in which Nehru is mentioned to be given the scepter. Today, the Congress had termed as false the claim of the BJP that Sengol was given to Nehru as a symbol of transfer of power in 1947.
Jairam Ramesh taunted
Today JaiRam Ramesh When taunted about WhatsApp University, Home Minister Amit Shah said that why there is so much hatred for Indian civilization and culture. There has been a debate on social media as well, in such a situation, now the government has shared the report published in Time magazine on August 25, 1947 as the biggest proof. A lot becomes clear from what is written in it. Before reading that article of TIME, know what the opposition of Congress is about.
Jairam Ramesh has accused the BJP of spreading a false story about Sengol. He clearly states that there is no documentary evidence that Mountbatten, Rajaji and Pandit Jawaharlal Nehru considered it as a symbol of the transfer of British power in India. Sengol (scepter) was used hundreds of years ago during the Chola Empire. Now that report of Time magazine has been sent to the Union Minister Hardeep Singh Puri Has shown as proof.
What's in Time magazine's ground report?
"As the big historic day drew near, Indians began to give thanks to their gods and special prayers, hymns, etc. were heard… Jawaharlal Nehru engaged in religious rituals the evening before he became the first Prime Minister of India are. Two representatives of the chief priest Sri Ambalavan Desigar Swami came from Tanjore in South India. Mr. Ambalwan thought that as the first Indian head of government, Nehru, like the ancient Indian kings, should receive symbols of power and authority from pious Hindus. The priest's representative was accompanied by players of the Nagaswaram, India's distinctive flute-like instrument. Like other sannyasins, these two priests had long hair and uncombed hair… They had holy ash on their head and chest… On the evening of 14th August, they slowly moved towards Nehru's house.. ..
Nagaraswam continued to sound after the priests reached Nehru's house. After this he entered the house with full respect. A monk was carrying a five feet long golden scepter which was 2 inches thick. He sprinkled holy water brought from Tanjore on Nehru and applied sacred ash on his forehead. After this, he covered Nehru with Pitambar and handed over the golden scepter to him. He also gave Nehru cooked rice, which was offered to Lord Nataraja in South India in the early morning. From there the plane was brought to Delhi.
What is sengol?
Sengol is derived from the Sanskrit word "sanku", which means "conch". The conch shell is considered very sacred in Hinduism. It is associated with the Chola Empire. In ancient times, sengol was considered a symbol of the power and authority of emperors. It was also called the scepter. When India became independent in 1947, this Sengol was considered a symbol of getting power from the British. Now Sengol will be installed in the new Parliament House. Shah has told that till now this sengol was kept in the museum of Allahabad.
Read this also-
Sengol is a symbol of getting power from the British
Amit Shah had told that a unique incident took place on August 14, 1947, but after 75 years most of the citizens of the country are not aware of it. During this Sengol played an important role. This Sengol became a symbol of the transfer of power from the British. Actually, when Lord Mountbatten asked Pandit Nehru about the process of transfer of power, Rajagopalachari told about the tradition of Sengol. In this way the process of Sengol was decided. After this the holy Sengol was brought from Tamil Nadu and given to Pandit Nehru in the middle of the night. After which it was believed that the British had handed over the power to Nehru.