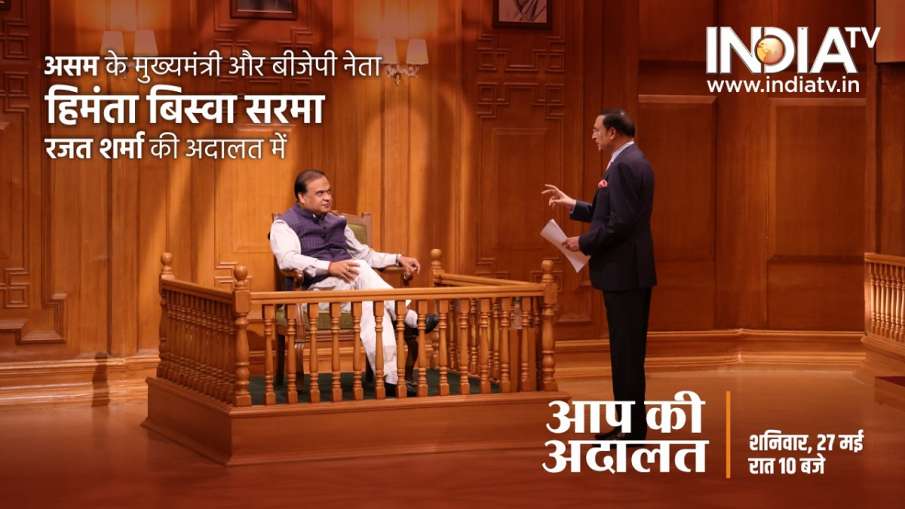 Himanta Biswa Sarma in Aap Ki Adalat: Assam Chief Minister and BJP leader Himanta Biswa Sarma will be Rajat Sharma's guest this time in the country's popular show 'Aap Ki Adalat'. Himanta Biswa Sarma is counted among the fiery leaders of BJP. Himanta Biswa Sarma remains in discussion about his statements on the coming days. Sarma is the fifth consecutive term MLA from the Jalukbari assembly seat in Assam. Prior to this, he has taken over as the Health Minister of Assam. In 2015, after differences with the Congress, he joined hands with Kamal.
In India TV's special show 'Aap Ki Adalat', Himanta Biswa Sarma will be seen answering questions from Rajat Sharma, Chairman and Editor-in-Chief, India TV. The new episode of Aap Ki Adalat will air on India TV on Saturday at 10 pm.
'You sat on BJP's lap to become CM?'
Rajat Sharma asked him that people say that Rahul Gandhi has become very wise after the Bharat Jodo Yatra, has he changed? You remained in the Congress for 22 years, became a leader because of the Congress and went and sat in the BJP's lap to become the Chief Minister? What problem do you have with Rahul Gandhi, it is not disrespect when you say give proof that who is your father? Offered 10-10 crores to the MLAs to topple the government in Jharkhand? Himanta Biswa Sarma openly answered Rajat Sharma's questions in Aap Ki Adalat.
There are many records in the name of 'Aap Ki Adalat'
Around 200 celebrities have registered their presence in 'Aap Ki Adalat'. Talking about digital platforms, the videos of 'Aap Ki Adalat' have been viewed more than 170 crore times, which is a record in itself. Not only this, the show has aired over 1100 episodes on TV, and is among the world's most watched news shows on YouTube. 'Aap Ki Adalat' has been the only platform where Aamir Khan, Salman Khan and Shah Rukh Khan have appeared together.