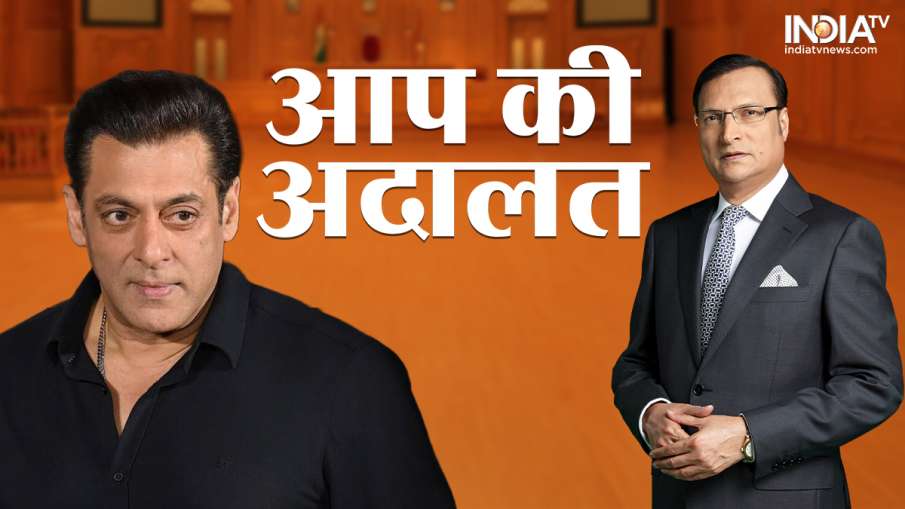 New Delhi: Superstar Salman Khan, in an interview with Rajat Sharma on Aap Ki Adalat, admitted that he has been unlucky in love perhaps because of his own mistakes. When asked if he intends to write an autobiography on his love story, Salman replied, "My love stories will accompany me to the grave."
When asked when he intends to get married, Salman replied: 'Jab aisi koi aayegi, toh ho gayegi, sir. Actually, all are good, faults are in me. When one goes, the fault was in him, when the second goes, the fault is in him, when the third goes, the fault is in him, in the fourth, a little doubt comes whether the fault is in him or me. In the fifth case, it could have been 60:40. But when she starts going more and more, she confirms that the fault was mine only. So it was not anyone's fault. This is just my fault, maybe it is a fear that I will not be able to give them the happiness in life which is in their mind and I am sure they are all happy at their respective places.'
Rajat Sharma: The whole world wants to know when will you get married?
Salman Khan: When the above wants sir. Two people are needed in a marriage. So earlier it was like that it was not happening. Sometimes I said yes, then no one did. Sometimes someone said yes and I did not. Now it is not coming from both the sides. When yes comes from both the sides then it will happen sir. But there is still time for this. I am of 57. There is time in that. I want this to be first and last for me. Means there should be a wife.
Rajat Sharma: How many more children?
Salman Khan: Sir, there should be as many children as possible. There should be many. Because it happens now or within the next 5-6 years, then I can still play with him for another 20-25 years. This is called dedication, persistence, persistence.
Rajat Sharma: Your parents have been waiting for their daughter-in-law for a long time in their house.
Salman Khan: Sir, what to tell now, it was a plan, not of daughter-in-law, it was of child, but according to law, it cannot happen in India, then we will see what to do, how to do.
censorship on ott
When asked if he has a problem with OTT content, Salman Khan said, "I have a lot of problems. I think there should be censorship on OTT content. In films, if there are two punch extras during the action, then we get an 'A' certificate. A different type of action is going on there, there are no A, B, C certificates.
Rajat Sharma: So all restrictions for OTT, nothing for Bigg Boss?
Salman Khan: There are many restrictions for Bigg Boss.
Rajat Sharma: Such a restriction that you told Zubair Khan that I swear if God didn't make you a dog, then my name is not Salman Khan?
Salman Khan: Said yes, I remember. Because he had misbehaved inside the house.
Rajat Sharma: You told Paras Chhabra that if I come to my side, I will fix you, you get out?
Salman Khan: Yes they too. However, Paras did not have that much. Sometimes we listen to other's words too. Our creative heads tell me that it happened like this, it happened like that, then the mercury rises a bit. When I see myself, I feel what was the need of this. i feel bad Sometimes it becomes too much in Big Boss's house, now you can't even blame them, no phone no nothing. There are 112 cameras following them in the house, on top of that they always lock their heads with each other in the tasks, so it becomes a bit difficult for them, and they lose their temper.
When Salman fired at Shahrukh
Salman Khan narrated an anecdote from the sets of 'Karan Arjun' when he once fired at Shahrukh Khan. Salman said, 'There are empty guns during the shooting, so I got an empty gun from our action director Bhiku Verma. A party was going on there, so Rajasthani folk dancers were also there. I told Shahrukh that I will call you for dance but you refused. If I call back then there will be a little scuffle between us and these are empty guns, I will shoot you from a distance and you fall down. Shahrukh said that he is not in the mood, he is tired. My brother Sohail was there.
"I pulled Shahrukh's hand, he shook my hand. He pushed me, I pushed him and there was a tu-tu-me-and I took out the gun and shot him and Shahrukh turned around and fell. Javed Sahab's wife Honey Aunty was there. She started saying there that I have known him since childhood, he is not such a boy. One Nishi Prem used to be a journalist there, she said that I have always known this boy like this.
"Then Praveen Bhaisaab, who was the owner of TimeVideo, said, "Bapu, in this scandal, your own self will also get out of here. It has been 5-10 minutes, I said with red eyes in anger that no one will rise, I will kill everyone." Ji's hands started trembling. I said, Shahrukh get up, Shahrukh get up but when Shahrukh didn't wake up, Sohail, Bhiku da got scared. I checked my gun. Suddenly Shahrukh started snoring. So, Pathan was alive at last.
"I fired 3-4 shots again, and everyone started laughing. I think Shah Rukh is the best actor in the industry. Needless to say. This performance was much better than Arjun's. Everyone was confident and Many people were trying to escape from the sets. It was a great experience."
With the telecast of this show on Saturday night, India TV will be launched in UAE (United Arab Emirates). Viewers in Dubai, Sharjah, Abu Dhabi can watch the show on India TV via Etisalat and DU (UAE Telecom operator).
For more details contact India TV Response at 93505 93505
read this also:
What advice did Bhaijaan give to Shahnaz Gill? Salman Khan told in 'Aap Ki Adalat'
Why does Salman Khan lag behind in awards? Know the answer of 'Dabangg' Khan in the show Aap Ki Adalat