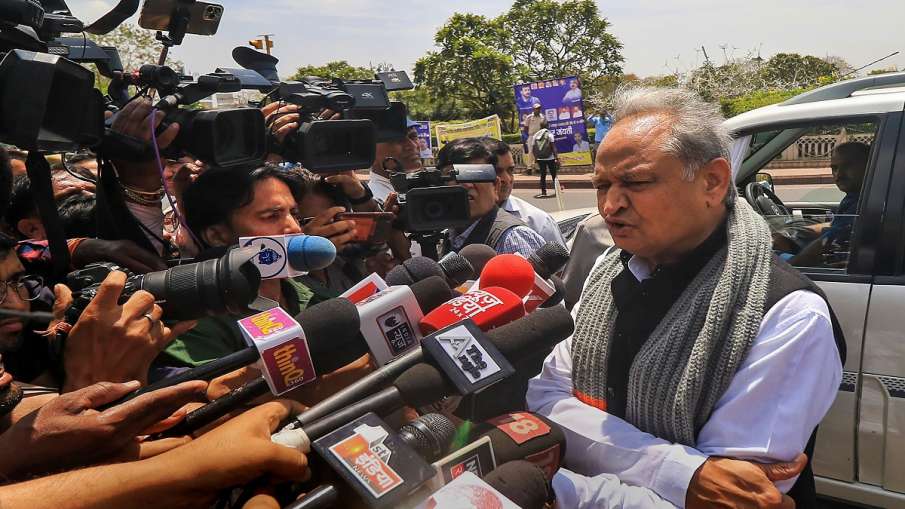 New Delhi: Rajasthan Chief Minister Ashok Gehlot said on Friday that Congress workers and leaders should not do anything that tarnishes the party's image. His statement is being seen as a veiled attack on former Rajasthan Deputy Chief Minister Sachin Pilot, who is questioning the state government for alleged inaction in corruption cases. Gehlot, who reached Delhi on Friday evening, said that everyone should work together to bring back the Congress government in the state. He said that he has come to the capital for personal reasons and will return to Rajasthan on Saturday. He said that before that he would meet some friends.
Gehlot told reporters at the airport here, "It is easy to create a spark, but it is very difficult to extinguish the fire. Congress leaders and workers should work together to strengthen the party and bring back its government in the state. He should not do anything that harms the party.
Gehlot's comment on Pilot's dharna
Predecessor of Rajasthan Vasundhara Raje In an apparent reference to Pilot's recent statements demanding action on alleged corruption during the government's dharna, Gehlot said, "I feel that if someone is harmed by a comment, then his personal loss should be taken care of." should not worry as the party high command will compensate. But nothing should be said or done that will harm the party and the organization because no one will be able to compensate for the loss caused by it.
Pilots were on strike last week
Significantly, the pilots were sitting on a dharna in Jaipur last week. He is demanding action against those allegedly involved in corruption during the Vasundhara Raje government. The Congress termed it as 'anti-party activity'. But the pilot continued his strike. Congress has not yet taken any action against Pilot for protesting against his own government. Gehlot said that his government has started many new schemes and many more are to come. He said that the people of the state feel that our government will come again.
Read this also-
What did Gehlot say on the issue of vacating Rahul's government bungalow?
former president of congress Rahul Gandhi On the issue of vacating his government bungalow here after he was disqualified from the Lok Sabha membership, Gehlot said, "Whenever there is a conspiracy, the conspirator completes it." The moment the case is registered, they decide further. The trial in the first case did not take place for four years, but suddenly everything started happening rapidly under a conspiracy. It was a conspiracy." He said neither Prime Minister Narendra Modi nor Home Minister Amit Shah knew what sacrifices the Gandhi family had made for the country. "The entire Congress family and workers want him to continue leading the party," he said.