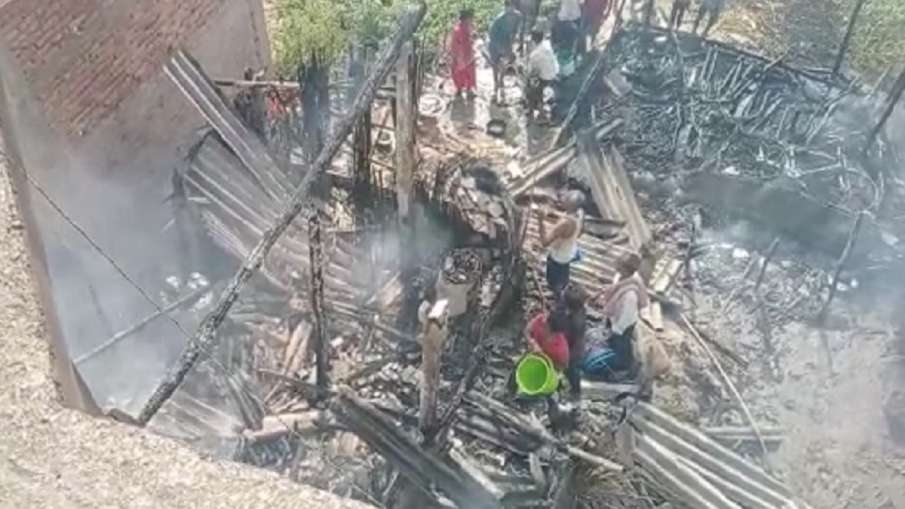 Madhubani: Such a case has come to light from Madhubani in Bihar, which everyone is surprised to hear. Due to the devastation caused by the spark arising from the pile of ashes here, mourning has spread in the entire village. Due to this spark, a 5-year-old innocent child was burnt to ashes in the fire and all the things kept in the house were also burnt to ashes. Due to this fire, there was a stir in the whole village and people started running here and there.
what is the whole matter
This incident is of Phulwaria village under Benipatti police station area. Here a house caught fire due to a spark from the pile of ashes. Due to this fire, 5-year-old innocent son of a person named Mohammad Nisar, Sultan died and his body was burnt to ashes. There is silence in the entire village and area due to the death of the child.
A sudden fire broke out at the house of Mohammad Abbas and Mohammad Mustaq of Ward No-3 of Fulbaria on Saturday afternoon. The fire engulfed both the houses and in no time both the houses started burning. Due to this fire, food grains, clothes, cash, furniture and goods of the house were burnt to ashes.
As soon as the people came to know about this, they started extinguishing the fire. During this, when people saw the burnt dead body of 5-year-old Sultan, there was chaos. In a hurry, this information was given to the authorities.
According to the information received, this child was living in his maternal grandfather's house in Fulbaria due to the death of his mother. Chief Alam Ansari has confirmed the death of the child. He said that the fire started due to the blowing of the ashes of the stove. (Report of Kumar Gaurav from Madhubani)
read this also:
UP: Major accident due to overturning of tractor-trolley in Shahjahanpur, about 20 people including women and children died, many injured
Umesh Pal Murder Case: Big disclosure of Atiq Ahmed and Ashraf in UP ATS interrogation, weapons were taken from this place