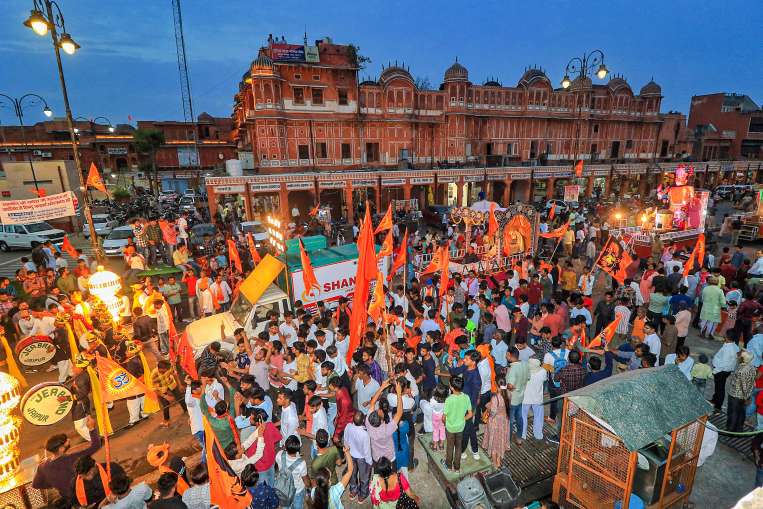 Incidents of violence and disturbance have come to the fore at many places in the country on Thursday on Ram Navami. Stones were pelted at Ram Navami processions in Gujarat's Sambhaji and Fatehpura areas in Vadodara. Apart from this, stones were pelted during the Ram Navami procession in Howrah in West Bengal and many vehicles were also set on fire. Many people have been reported injured in incidents of violence and disturbance. Police in Vadodara has started combing operation and arrested several people. After the violence in Sambhaji Nagar, the police is trying to identify the miscreants through CCTV.
In Lucknow too, after the violence and disturbance, the police is taking strict action and has intensified the crackdown on the miscreants.
Two groups clashed during the Ram Navami procession in Mumbai on Thursday night. Some people objected to loud music being played during the procession at Malvani in suburban Malad (West). Some people involved in the procession alleged stone-pelting, which created panic among the people. However, the police have not confirmed the incident of stone pelting.
The police officer said that additional police personnel were called to the spot and force was used to disperse the crowd. The situation in the area is under control. Senior police officers and local leaders visited the area and appealed for peace.
One person was killed and several others injured in a clash between two communities during a Ram Navami procession in West Bengal's Dalkhola town on Thursday. The police somehow brought the situation under control. However, one youth was killed and several people, including five to six policemen, were injured, Islampur Superintendent Bishop Sarkar said.