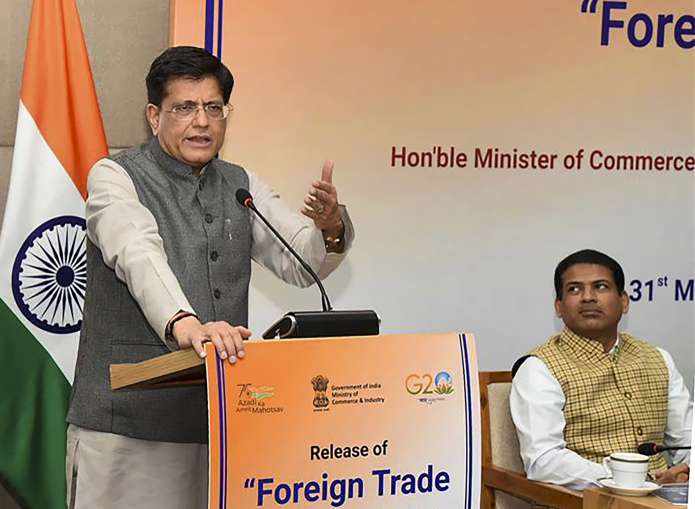 Central government introduced the new Foreign Trade Policy (FTP) on Friday. It aims to increase the country's exports to $2 trillion by 2030, make the Indian rupee a global currency, and promote e-commerce exports. The approach of FTP 2023 is to move from incentive based to exemption and entitlement based system. Along with promoting cooperation between exporters, states, districts and Indian embassies, reducing transaction costs and developing more export centers. The country's goods and services exports are likely to cross $765 billion in the current fiscal ending Friday. It was $ 676 billion in 2021-22.
No end date for new policy
Giving information about the new foreign trade policy, Director General of Foreign Trade (DGFT) Santosh Sarangi said that traditionally five year foreign trade policy has been announced but this policy has no expiry date and it is being updated according to the changing global scenario. Will be updated. Earlier, Commerce and Industry Minister Piyush Goyal introduced FTP 2023. It will come into effect from April 1, 2023. Goyal said that the commerce ministry will focus on creating a wider reach in the world at the sector-wise or country-level during the next four-five months. The Indian Embassy abroad and the Ministry of External Affairs will work closely with the Department. The Commerce Minister said, "Going forward, we have to meet our export targets.
Promotion of trade in Indian Rupee
By 2030, we will achieve the export target of $ 2,000 billion, but it should not happen that service exports exceed goods exports. "The FTP aims to promote trade in Indian rupee and globalize it. It opens the way for international trade transactions to be done in rupees. Commerce Secretary Sunil Barthwal said that India is ready to trade in Indian currency with countries that are facing dollar shortage or currency failure. He also said that Indian exporters have to become globally competitive and should not depend on subsidies. In the interest of trade and industry and to encourage exporters, FTP provides relief to exporters who have not met their export obligations. In this, an amnesty scheme has been introduced for one-time settlement of defaults in export obligations under the Advance Authorization and Export Promotion Capital Goods (EPCG) schemes.
Emphasis on identifying products and services in every district
The new foreign trade policy aims to streamline exports of dual-use products under the 'SCOMET' (Special Chemicals, Organisms, Materials, Equipment and Technologies) policy. In this, emphasis has been laid on enhancing engagement with states and districts through the 'District as Export Hub' initiative. Under this, identification of products and services in each district, institutional mechanism and preparation of district export action plan etc. are included. FTP 2023 will also give a boost to e-commerce exports, which are expected to reach $200-300 billion by 2030. In addition, the value limit for exports through courier services is being raised from Rs 5 lakh per consignment to Rs 10 lakh. In this, the Special Advance Authorization scheme has been extended to the apparel and textile sector and the dairy sector has been exempted from maintaining average export obligations.
Four new cities have been added
Four new cities namely Faridabad, Moradabad, Mirzapur and Varanasi have been included in the new FTP as Cities of Excellence (TEE). These are in addition to the already existing 39 export excellence cities. DGFT said that policy changes are being made since 2015 without announcing new FTP. The previous policy came into effect from April 1, 2015, for a period of five years, but was extended several times due to the spread of the coronavirus pandemic. It was last extended in September 2022 till March 31, 2023.