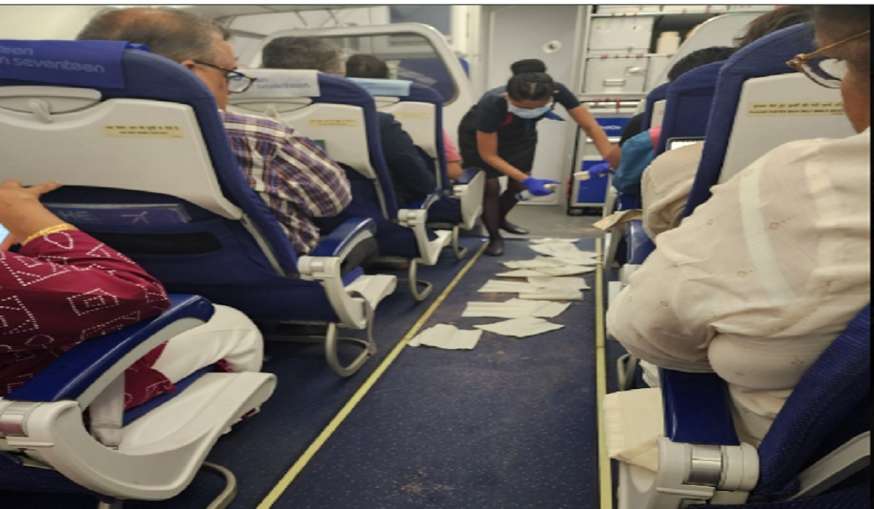 Guwahati-Delhi IndiGo Flights: Embarrassing incidents by passengers in flight are on the rise. One such recent case has come to the fore in Guwahati-Delhi flight. According to information, a passenger who was under the influence of alcohol vomited during the first flight. After this defecated around the toilet. After this the on-board airhostess had to wipe the floor of the aircraft. After this incident, while people are cursing the drunken passenger, they are also praising the air hostess for her passion towards her work. An inebriated IndiGo passenger vomited in the aisle and defecated around the toilet on a Guwahati to Delhi flight on March 26. After the incident, a picture of a cabin crew member cleaning the mess went viral on social media. People expressed their displeasure over the incident. A passenger of the flight informed about the incident in a Facebook post.
incident viral on social media
Referring to the incident, the passenger of the flight wrote on social media that Indigo Guwahati to Delhi. The intoxicated passenger vomited in the corridor and defecated around the toilets. Crew member Shweta cleaned up all the mess and all the female members handled the situation very well. Tribute to women power.
crew cleared
In the viral photo, crew members are seen with cleaning spray in hand and tissue paper on the floor to wipe up the mess. Bhaskar Dev wrote 'I was feeling really bad. Of the three girls, one was from Guwahati, one from Bijainagar and one from Kohima. He was walking in the corridor to clean it.
constant rudeness
According to the eyewitness passenger, the passenger was not punished in any way. I really felt bad when I saw the leading lady cleaning with her hand brush and scratching the floor to clean off the dirt.
fourth of march event
On March 23, two passengers traveling from Dubai to Mumbai had created a ruckus on the flight under the influence of alcohol. Dattatreya Bapardekar and John George D'Souza were arrested in this case. On March 9, a 24-year-old woman was arrested upon arrival in Bengaluru after she was caught smoking in the lavatory of an Indigo Kolkata-Bengaluru flight.
On March 5, an American student urinated on a co-passenger on a New York-New Delhi American Airlines flight. On 26 November 2022, almost a similar incident happened in New York Delhi Air India flight. In which a person Shankar Mishra allegedly urinated on an elderly woman in an inebriated state. In this case, a fine of 30 lakh was also imposed on Air India.