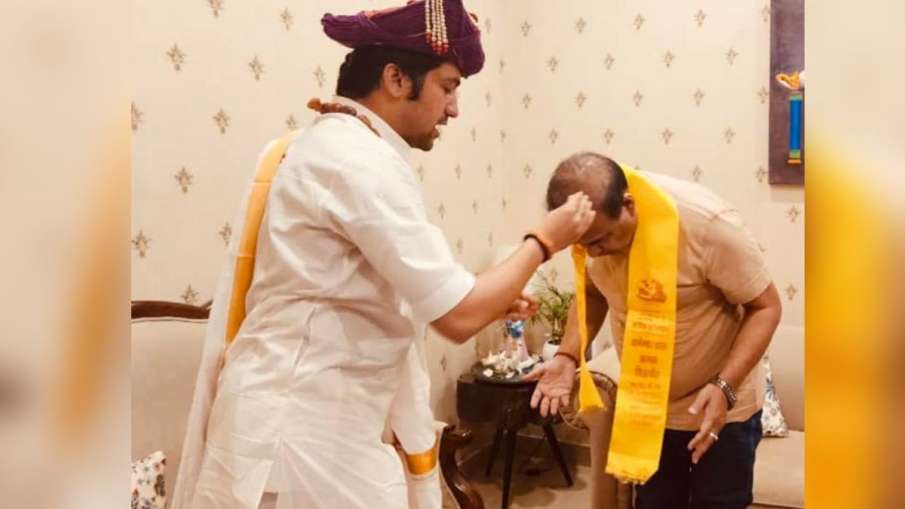 New Delhi: The power of Peethadhishwar Dhirendra Krishna Shastri of Bageshwar Dham is increasing. We are not saying this, but the pictures coming out are testifying to this fact. The latest case is that after all the Chief Ministers, now Assam Chief Minister Himanta Biswa Sarma has also reached the shelter of Bageshwar Baba Dhirendra Krishna Shastri. Earlier, Madhya Pradesh Chief Minister Shivraj Singh Chouhan, former Chief Minister Kamal Nath, former Maharashtra Chief Minister and currently Deputy CM Devendra Fadnavis have also met Shastri.
The Maharashtra from which Baba challenged being superstitious and hypocritical and faced the opposition of the Congress for not allowing the divine court in Mumbai by gathering a crowd of lakhs in his 2-day divine court, in the same Maharashtra Bhiwandi answered all the critics. Baba Bageshwar also performed Bhoomi Pujan of the back of Bageshwar Dham.
Dhirendra Shastri was welcomed at CM's house in Assam
After this, Baba Bageshwar reached Assam, where CM Himanta Biswa Sarma was elated to welcome Baba when he reached CM's house on the occasion of Hindu New Year. In a tweet, Chief Minister Himanta Biswa Sarma expressed his gratitude to Bageshwar Dham Peethadhishwar Dhirendra Krishna Shastri by calling him Bageshwar Dham Sarkar. On the other hand, it was informed from the official Twitter handle of Bageshwar Dham that the Chief Minister has taken the blessings of the respected government for the progress and welfare of the people of North-East.
Assam Chief Minister Himanta Biswa Sarma has been written as Hindu Samrat from Baba's official Twitter handle. Significantly, Himant remains in headlines due to his sharp and controversial statements. Whether it is a matter of Muslim appeasement or conversion or direct attack on Congress leaders, Himanta's image is growing in the top leadership of BJP as well as among hardline Hindus.
This is not the first time that Chief Ministers have been seen bowing down in the court of Baba Bageshwar. Recently, not only Madhya Pradesh CM Shivraj Singh Chouhan, but also former Chief Minister Kamal Nath were seen paying obeisance in the programs of Bageshwar Dham which lasted for 7 days in Garha village of Chhatarpur. Earlier, former CM of Maharashtra and currently Deputy CM of Maharashtra Devendra Fadnavis has also been seen taking blessings of Baba.
Earlier, discussions about the arrival of UP CM Yogi Adityanath in the program which lasted for 7 days at Bageshwar Dham were in full swing but Baba Bageshwar and Yogi Adityanath could not meet. However, it is believed that Yogi's meeting with Baba can be seen soon before the MP elections.
read this also-
Modi looks like 'PM of some party', Rahul Gandhi is educated', know what else Sam Pitroda said
Padma Vibhushan to former Union Minister SM Krishna and Padma Shri to Rakesh Jhunjhunwala posthumously, know here the names of all