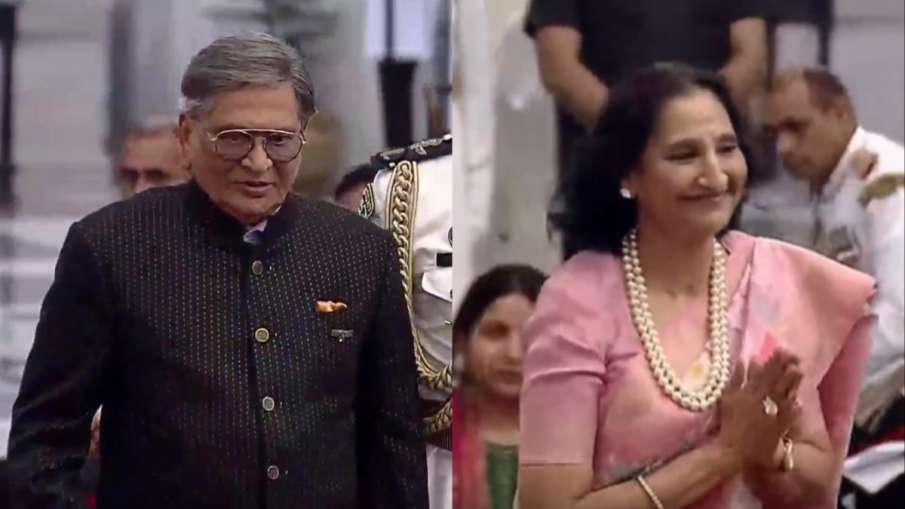 Padma Awards 2023: President Draupadi Murmu distributed the Padma Awards for the year 2023 during the ceremony held at Rashtrapati Bhavan. During this, former Union Minister SM Krishna was awarded the Padma Vibhushan and Aditya Birla Group Chairman Kumar Mangalam Birla was awarded the Padma Bhushan. Veteran investor and founder of Akasa Air, Late Rakesh Jhunjhunwala was awarded the Padma Shri (posthumously). His wife Rekha Jhunjhunwala received the award from the President.
Singer Suman Kalyanpur was given the Padma Bhushan and Pandwani singer Usha was given the Padma Shri. Bhanubhai Chitrara, the 7th generation Kalamkari artist of the Chunara community, who has been carrying forward the legacy of the 400-year-old traditional craft of Mata ni Pachedi, was honored with the Padma Shri by President Draupadi Murmu.
Narendra Chandra Debbarma, late president of the Swadeshi People's Front of Tripura, was awarded the Padma Shri (posthumously) by President Draupadi Murmu. His son Subrata Debbarma received the award.
Kantha embroidery artist Pritikana Goswami received the Padma Shri from President Draupadi Murmu and biologist Modadugu Vijay Gupta also received the Padma Shri. Punjabi scholar Dr. Rattan Singh Jaggi received the Padma Shri and artist Dilshad Hussain (for decades of carving brass utensils) the Padma Shri.