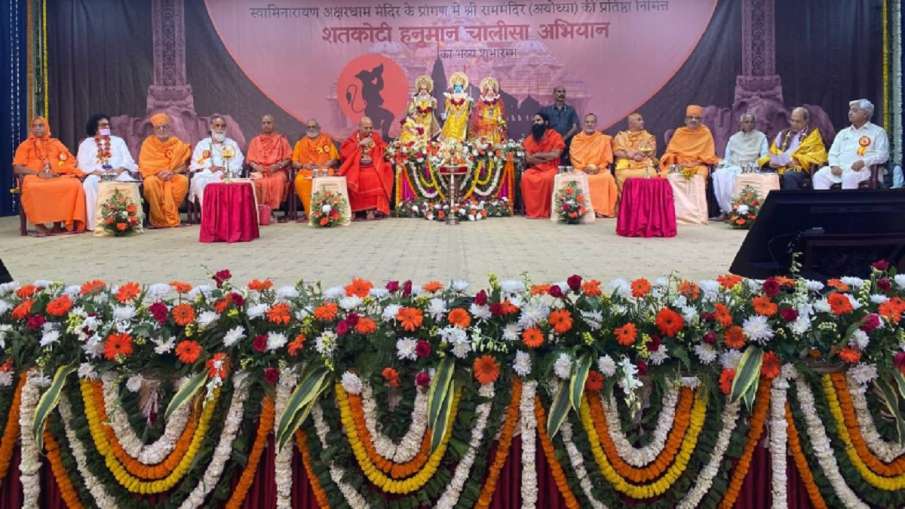 The festival of Lord Shri Ram's prestige will be held in the new grand temple at Shri Ram Janmabhoomi in Ayodhya, almost immediately after January 15, 2024, next year. For this purpose, for 300 days from March 21, 2023 to January 15, 2024, a huge devotional campaign was started from Swaminarayan Akshardham Temple, Delhi for the awakening of cultural consciousness in the whole country. Swami Shri Baba Ramdev Ji (Patanjali Yogpeeth, Haridwar), Swami Shri Govinddev Giri Ji (Ramjanmabhoomi Teerth Kshetra Nyas, Ayodhya) and Swami Shri Bhadreshdas Ji (BAPS Swaminarayan Shodh Sansthan, Akshardham, New Delhi) organized under the joint auspices of world famous saints in this program. , Mahatma, religious leaders and learned personalities participated. In this program organized for the awakening of cultural consciousness in the entire nation with mutual affection, harmony, harmony, cordiality and harmony, respected M. I Swami Shripunyanand Giri Ji Maharaj, Pujya Swami Shriparmatmanand Saraswati Ji Maharaj, Pujya Swami Shrigyananand Ji Maharaj, Pujya Swami A. Shri Balakanand Giri Ji Maharaj, Pujya Swami Shri Pranavanand Saraswati Ji Maharaj, Pujya M.M. Swami Shri Vishweshwaranand Giri Ji Maharaj, Pujya Swami Shri Gopalsharandevacharya Ji Maharaj, Pujya Jain Acharya Shri Lokesh Muni Ji Maharaj, Hon. Mr. Champat Rai (Shri Ram Janmabhoomi Ayodhya), Hon. Mr. Nripendra Mishra (Shri Ram Janmabhoomi Ayodhya), Hon. Mr. Alok Kumar (Vishwa Hindu Parishad) etc. were present.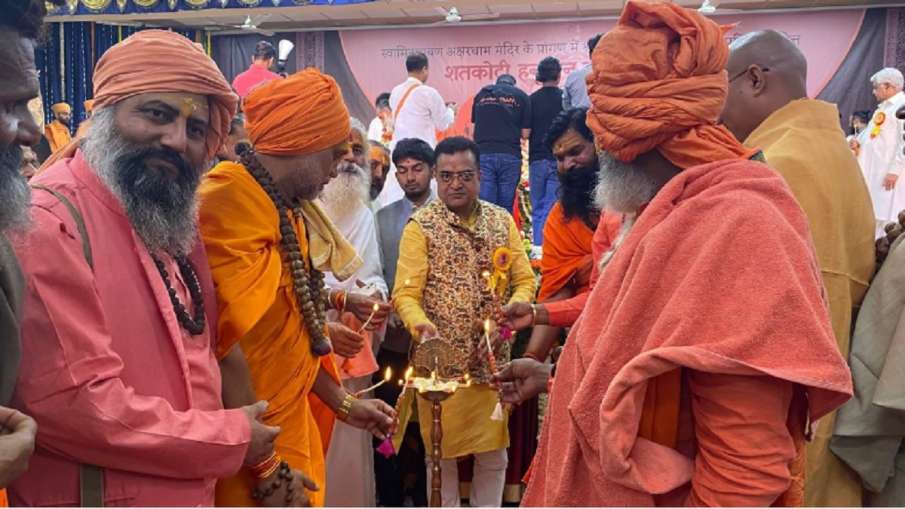 Grand proclamation meeting held at Akshardham temple for Pratishtha Mahotsav to be held in Ayodhya
For the moral, character, cultural and spiritual empowerment of the nation divided into different sects – regions – languages ​​- sects, everyone gathered on the platform of Akshardham temple and resolved that before the establishment of Shriram temple, hundreds of thousands of Hanuman ji should be used to awaken the devotional spirit of Hanuman ji. Chalisa Vagyagya should be dedicated at the feet of the Lord. Since this unique devotion is also the source of patriotism, world welfare and brotherhood, its ritual will be continued till the upcoming Shri Ram Mandir Pratishtha. Along with this, story-discourses, book-essay writing, Sunderkand-based stories, conferences, seminars, competitions etc., many types of devotional activities based on the life of Lord Shriram will also continue throughout the year.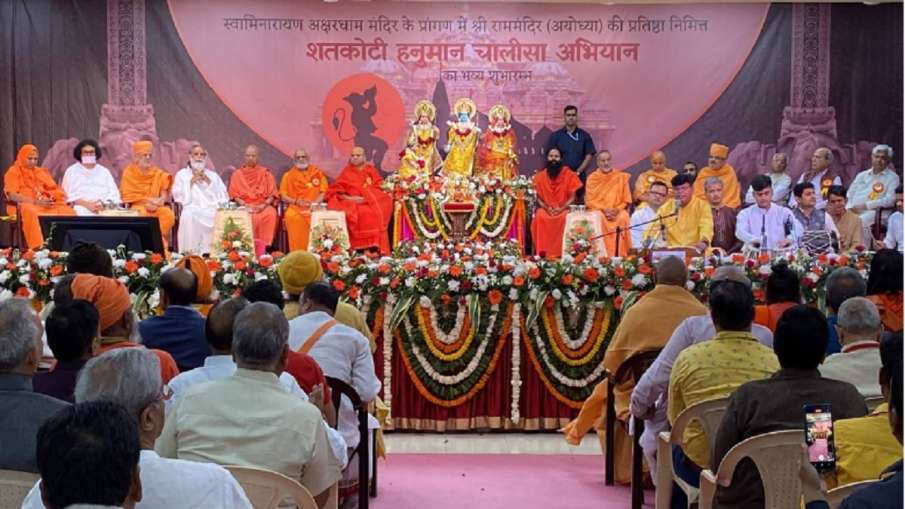 Grand proclamation meeting held at Akshardham temple for Pratishtha Mahotsav to be held in Ayodhya
On this occasion, the head of BAPS Akshardham Sansthan Prakat Brahmaswaroop Mahantswami Maharaj sent blessings that "The character of Lord Ramchandra is inspirational for the whole world. This devotional ritual for the prestige of the temple in Shri Ram Janmabhoomi Ayodhya will communicate spiritual values ​​to the whole world. Our Guru Pramukhswami Maharaj was also dedicated throughout his life in the propagation of Sanatan Dharma and culture. From the Shilapujan of Shri Ram Mandir to the construction of the temple, he had always given active yoga. It is notable that the in-charge of Akshardham temple, Pu. Munivatsala Swamiji contributed smoothly in the organization of the entire program. This special program started at 4 pm. Children of BAPS Akshardham Balpravritti started the gathering with Vedic peace song.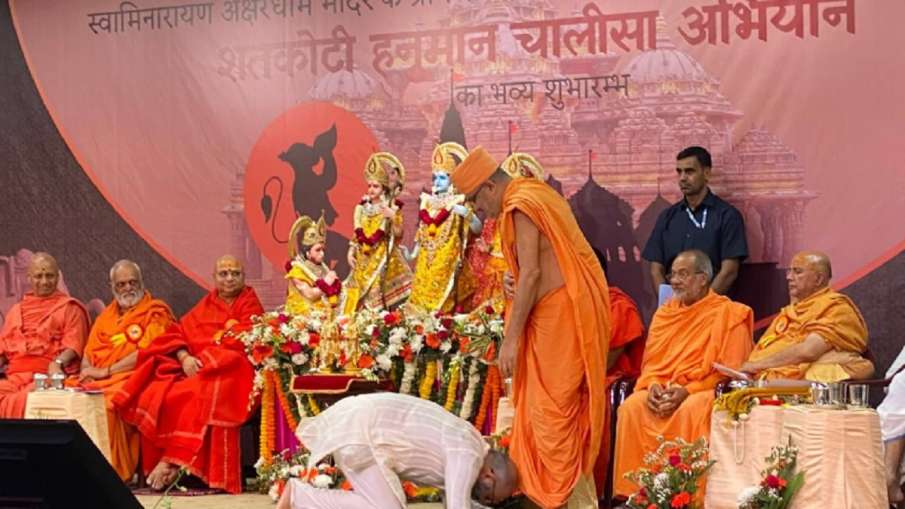 Grand proclamation meeting held at Akshardham temple for Pratishtha Mahotsav to be held in Ayodhya
After that, the respected saints and guests were duly introduced, they were welcomed with Mahavastra and Pushpahar. Honorable Mr. Champat Rai ji (Shri Ram Janmabhoomi Ayodhya) in his relevant statement explaining briefly the centuries-old history of Shri Ram Janmabhoomi and the temple, said, "Lakhs of devotees and their families have given their dedication in this gigantic task, we salute them. Are ." The respected saints and the chief guests who came to the meeting, worshiped Shri Ram Darbar and lit the auspicious lamp. At that time it appeared that the atmosphere of the auditorium had become auspicious and divine by the remembrance of Prabhushree Ram, Sita ji, Laxman ji and Hanuman ji. , All the devotees sitting in the assembly were informed about the Shatkoti Hanuman Chalisa campaign for Ram Pratishtha through a video.
Pujya Swamiji Shri Govinddev Giri Ji Maharaj while presenting the proposed outline of the Shatkoti Hanuman Chalisa campaign to all the devotees said, "There are thousands of temples dedicated to Shri Ramchandra Bhagwan across the country. However, the temple to be built at Ramjanmabhoomi Ayodhya is special as it will awaken the spiritual consciousness of the devotees. To rekindle such spiritual consciousness, Shri Hanumanji is the most favorite devotee of Shri Ramchandra Bhagwan. Remembrance of Hanuman ji will inspire everyone to work hard to achieve their physical and spiritual goals. Chanting of Hanuman Chalisa will protect the devotees from inauspicious actions and inauspicious thoughts. The main objective of Shatkoti Hanuman Chalisa campaign is to remember Shri Ramchandra ji every moment. We have also launched a website 'rampratistha.com' and a mobile application – Ram Pratistha. Devotees can pledge a number of Hanuman Chalisa lessons on this website and application and offer their devotion. In this application, a transliterated Hanuman Chalisa will be available in around 12 languages, so that devotees can easily chant and offer their devotion.
Shatkoti Hanuman Chalisa campaign started auspiciously with the recitation of Shri Hanuman Chalisa on the occasion of Rampratishtha. The atmosphere became delightful and supernatural with this Chalisa song of Shri Hanuman ji, a devotee of Lord Shri Ram. Pujya Jain Acharya Shri Lokesh Muniji Maharaj said in his statement, "As a Jain Guru, I want to convey this message to the Jain Gurus all over the world that just as Lord Adinath and Lord Mahavir have a place in our religion, similarly Lord Shriram also has the same place and worship in Jainism. Hanuman Chalisa has the same greatness as Navkar Mantra. Lord Mahavir Jayanti is on 4th April and from that auspicious day I myself will start reciting Hanuman Chalisa." Thereafter, Ma. Mr. Alok Kumar (Vishva Hindu Parishad) said, "I was stunned to hear about the plan for Shatkoti Hanuman Chalisa campaign, but sacrifices of lakhs of people, stone worship of 3 lakh bricks, construction of temples for 10 crore families and 65 crore people Remembering the donations etc., I am firmly convinced that this plan will be successfully completed. With the recitation of Hanuman Chalisa, India is sure to become Vishwaguru.
Respected Swami Shree Pranavanand Saraswatiji Maharaj said through his statement, "When I heard about this Shatakoti Hanuman Chalisa being organized, I remembered my childhood days and at that time there was only one slogan 'Bachha Bachha Ram Ka, Janmabhoomi Ke Kaam'. Of' . Today, I resolve to reach out to Dalits and tribals and bring Lord Ram and Hanumanji to their lives.
Commentator Pujya Bhadresh Swamiji told in the gathering that the idea of ​​reciting Shat Koti Hanuman Chalisa first started in Indonesia. Shri Govind Giriji Maharaj was with me. The temple is being constructed in Ram Janmabhoomi, but everyone will have to unite to increase devotion towards Shri Ram. When nationalism is devoid of spirituality, then nationalism goes astray. Nationalism in India has never deviated from spirituality. Only then it was decided that such a resolution is a vision. This project is not of any organization but of common people.
Ram ji is sitting in the heart of every Indian, his consciousness will be awakened by Ram. Our Guru Mahant Swami Maharaj said 'One who recites Chalisa will be prosperous. ' This will awaken our faith. It is the essence of philosophy, psychology in one lesson. We are proud that this launch is happening from Akshardham. The spiritual consciousness that starts from Akshardham will not stop anywhere. Look at Saint Shakti who is sitting here today. When we join hands then no one can break us.
Spiritual Ram resides in every human being. He is the consciousness of all. Keeping faith in the words of Guruji Mahant Swamiji Maharaj, I want to say that this lesson will not get stuck in hundreds of years. Will not get stuck even in five centuries. Will not get stuck even in thousands of crores. Today Guruji Pramukh Swamiji is watching us. When the proposal for the construction of Ram temple came, he got the opportunity to worship its stone for the first time. And today, this resolution is also being started from Akshardham.
Thereafter, Shri Gopalsharandevacharya Ji Maharaj said, "I express my gratitude to all those spiritual masters who have been at the forefront of spreading the culture of Sanatana Dharma throughout the world. The glory of Hanuman ji is beyond any sect, he is revered by people of different religions all over the world. People from different walks of life and age groups and societies chant Hanuman Chalisa to overcome any difficulty in their life. I suggest that Hanuman Chalisa should be recited at the beginning of every journey or at the beginning of a new work.
Poo Punyanand Giri Ji Maharaj said in his discourse, "I had memorized Durga Kavach even before I started my studies because it used to be chanted in my house. In such a situation, when Hanuman Chalisa is recited in every house on the last day, children will memorize Hanuman Chalisa even before starting their studies. Through this religious consciousness will be re-awakened in this country. In such a situation no one will say that the youth is lagging behind in the path of religion.
Poo Come. Balkanand Maharaj ji said, "The resolution of reciting Hanuman Chalisa for the glory of Lord Shri Ram can be fulfilled in a single day. Just as the whole world is connected with Yoga. If one recites Hanuman Chalisa every morning along with yoga, it is possible to complete in a day.
Pujya Yogguru Swami Ramdev Ji Maharaj said in his statement, "Swaminarayan Parampara is the pride of our Sadhu Parampara. We see the philosophy of what saint tradition and sacrifice should be like through Akshar Purushottam tradition. I express my gratitude to Swami Shri Govind Dev Giri for this campaign. By praising God, love for Him increases, by praying to Him we do not feel proud, by worshiping Him we ourselves attain the state of Brahman. Mahant Swami Maharaj ji said that virtues will manifest in us. The foundation of Ram Mandir which has been laid is not only for one thousand but it will last for lakhs of years. The land of India is the land of Rishi Muni. Ascetics and sages built this country with their struggle and penance. This Shatkoti Hanuman Chalisa campaign is only a symbol, its echo will echo in the world for years. Remembering God destroys the heat of difference. Pramukhswami Maharaj created unique saints, similarly this campaign will spread new consciousness in the whole nation.