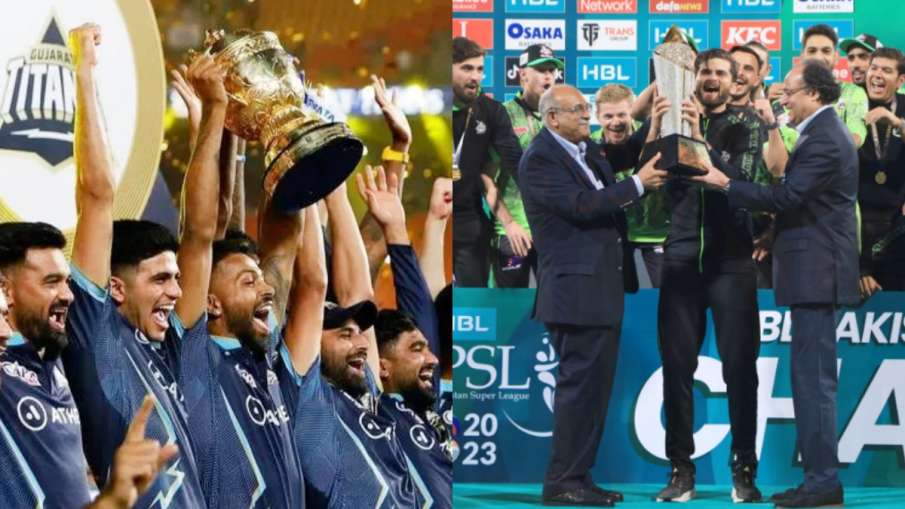 Pakistan Super League: IPL is the most watched cricket league in the world. Indian Premier League and Pakistan Super League have always been compared. India and Pakistan being fierce rivals in the field of cricket, comparisons are often made between the T20 leagues of the two countries. IPL started in the year 2008. Whereas, PSL started in the year 2016. Let's know, what pies money is received in IPL and PSL after winning the title?
There is a big difference in prize money
The IPL 2022 title was won by Gujarat Titans under the captaincy of Hardik Pandya. Then he got prize money of Rs 20 crore. At the same time, the runner-up Rajasthan Royals got Rs 12.5 crore. Whereas, Pakistan Super League title winning team Lahore Qalandars got only Rs 3.4 crore and runner-up Multan Sultans got Rs 1.5 crore. There is a huge difference between the prize money of IPL and PSL. 10 teams participate in IPL. Whereas, 6 teams participate in PSL.
Lahore won the title
The title of PSL 2023 was won by Lahore Qalandars, captained by Shaheen Afridi. In the final, Lahore beat Multan Sultans by 1 run. This is Lahore Qalandars' second consecutive title in the Pakistan Super League. In the final match, the team of Lahore Qalandars scored 200 runs while batting first, in response to which the team of Multas Sultans could score only 199 runs. Captain Shaheen showed an amazing game for Lahore. He scored 44 runs in 15 balls, which included 5 long sixes. After this, he took 4 wickets while showing amazing bowling.
Such was the thrill in the last over
Multan Sultans needed 13 runs to win in the last over and Khushdil Shah was batting. At the same time, Zaman Khan handled the bowling for Lahore. Khushdil hit the fifth ball for a four and Multan needed four runs on the last ball as well, but he could manage only two runs and was run out.