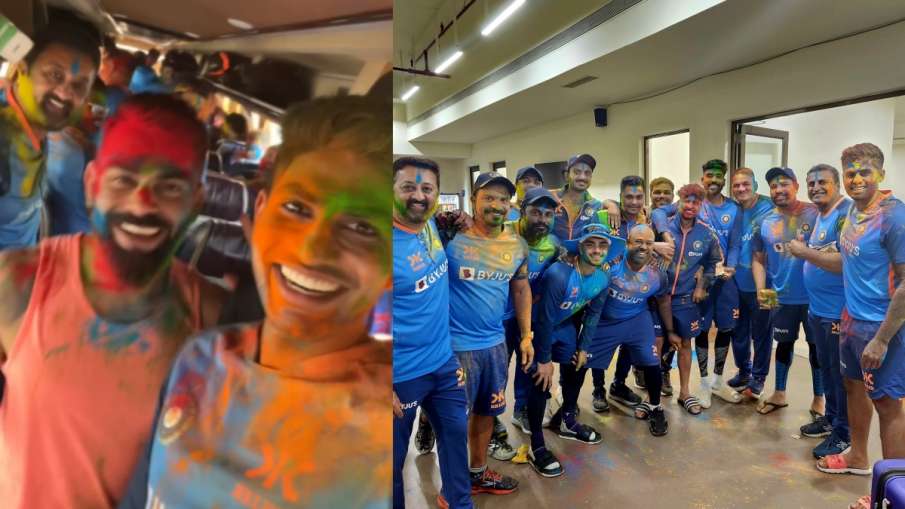 At this time, there is an atmosphere of joy in the whole country due to the festival of Holi. The countrymen celebrate this festival of colors among themselves with great joy. At the same time, the color of Holi is spreading a lot on the cricketers as well. In the Women's Premier League, Indian players played this festival fiercely with foreign players. At the same time, the players of Team India have also celebrated the festival of Holi with pomp before the fourth test.
Team India's stars played Holi
Indian team's star opening batsman Shubman Gill has shared a video on social media. In this video, many star cricketers of the Indian team are seen enjoying Holi. This video is of Team India bus. In this video, Indian team players are seen dancing on Holi songs. Cricket fans are making many comments on this video.
Rohit blew gulal on Kohli
Virat Kohli is seen singing the song in Gill's video. At the same time, Indian team captain Rohit Sharma is blowing gulal on Virat and Shubman Gill from behind. Apart from this, Shreyas Iyer can also be seen in this video. Apart from Gill, Rohit has also shared two photos on social media. Among them Mohammad Siraj, Cheteshwar Pujara, Ishaan Kishan, Suryakumar Yadav, Kuldeep Yadav and Akshar Patel can be seen.
What happened in the series so far?
Please tell that all the three matches of this series ended on the third day itself. In the first Test, Team India won by an innings and 132 runs on the third day itself. At the same time, the second match played in Delhi was won by Team India by 6 wickets. After this the story changed in Indore and Australia won by 9 wickets here. The spinners were getting excessive turn on the Indore pitch, after which the ICC gave it a poor rating.