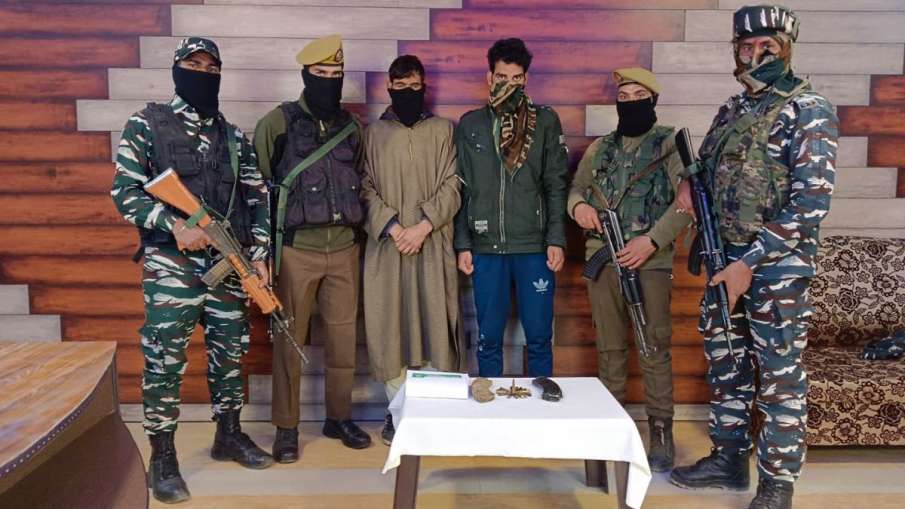 Srinagar: Police and security forces in North Kashmir's Baramulla have succeeded in arresting two helpers or overground workers of terrorists on Tuesday. Police said that both the terrorists' helpers are associated with the Lashkar-e-Taiba organization and two rifle magazines, 15 cartridges and LeT (TRF) posters have been recovered from them. On the basis of the clues received from these two overground workers, the security forces have launched a search operation to nab the terrorists.
Suspicious youths were coming from the forest towards the village
According to reports, on Tuesday morning, the police was found in Monchkund Jandpal area of ​​Kunjar. terrorists was reported to be in hiding. On the basis of this information, the police, along with CRPF's 176th Corps and Army personnel, launched a search operation to nab the terrorists. While conducting the search, the jawans spotted two suspicious youths who were coming towards the village from the nearby forest. Seeing the soldiers, both the youths started running back towards the forest, after which the soldiers chased them and caught them.
Khurshid and Riyaz are overground workers of TRF
The security forces identified the two as Khurshid Ahmed Khan and Riyaz Ahmed Khan. Both of them are residents of Jandpal and on their search weapons and posters were recovered. During interrogation, both told that they are overground workers of TRF, a terrorist organization called Hit Squad of Lashkar-e-Taiba. He said that he had brought cartridges and other items for the TRF terrorists near Mochkund, but the terrorists had left before the siege of the security forces, after which a search operation was launched to nab them.