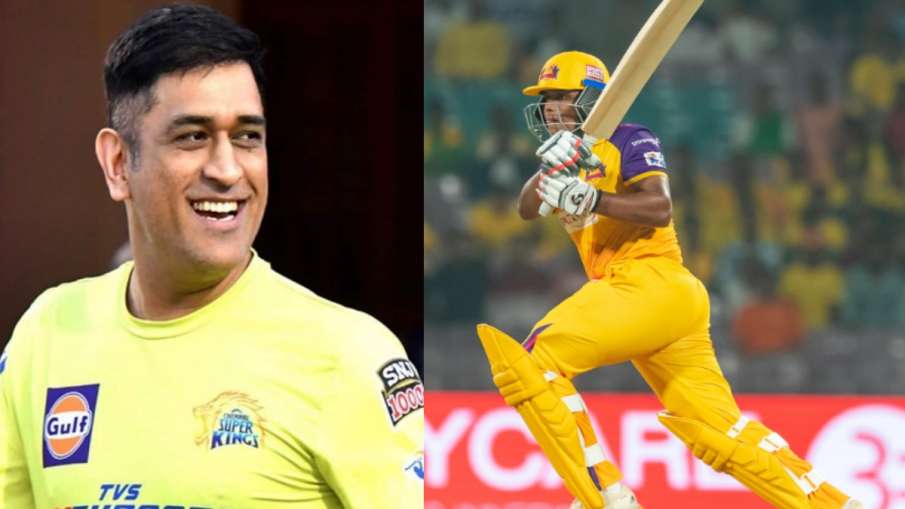 Mahendra Singh Dhoni has fans all over the world. His craze among the fans in India is made on seeing it. The Women's Premier League is currently being organized in India. In the match played on Sunday night, Uttar Pradesh Warriors defeated Gujarat Giants by 3 wickets in a thrilling match. In this match, Uttar Pradesh Warriors batsman Kiran Navgire has been in discussion for a special reason apart from her batting.
Because of this everyone's attention was drawn
Uttar Pradesh Warriors batsman Kiran Navagire came out to bat at number three. There was no sponsor's name on his bat. Rather, MSD and 07 were written there, which is the short form of Mahendra Singh Dhoni's name and 07 is his jersey number. After this his picture is going viral on social media. She considers Dhoni as her ideal since childhood.
won heart by batting
Kiran Navagire had also laid the foundation of victory for Uttar Pradesh Warriors with her batting. Uttar Pradesh did not get off to a good start against Gujarat Giants when Alyssa Healy scored 7 runs and Shweta Sehrawat was dismissed for just 5 runs. After this, Kiran came out to bat and changed the course of the match. He won everyone's heart while batting in a dashing manner. He hit strokes all over the ground. Because of him, the Uttar Pradesh team was successful in winning the match. He played an innings of 53 runs in 43 balls, which included 5 fours and 2 sixes.
Big fan of Dhoni
Even before the start of WPL, Kiran Navagire told that she is a big fan of Mahendra Singh Dhoni and follows him since 2011. They didn't know that women's cricket was also something. He only saw men playing cricket. Later, he played cricket with the boys of the village and made a place in the Indian team on the basis of strong performance.
Born in Solapur, Maharashtra
Kiran Navagire, 27, was born in Solapur, Maharashtra. She comes from middle class family. She plays for Nagaland in domestic cricket. He specializes in explosive batting and has the ability to hit long sixes. He has also played 6 International T20 matches for India. She had scored 162 in the Women's Senior T20 Trophy last year, which was the best score ever in the tournament.
Read also:
India's victory in Ahmedabad Test will be absolutely sure! In the last 15 years, no opposing team could do this work.
Delhi Capitals created history in WPL 2023, became the first team to do this feat