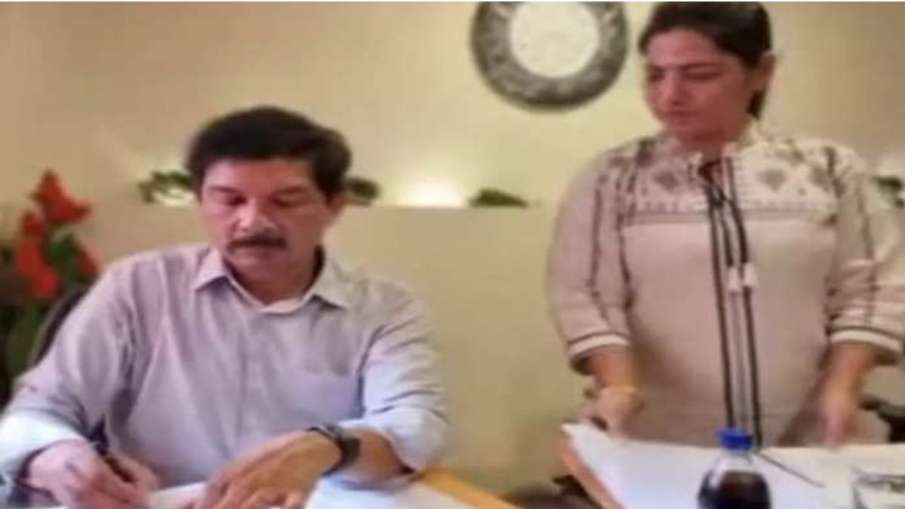 A video of an IAS officer from Jharkhand has gone viral on the internet. This 22-second video clip has created a stir in the corridors from bureaucracy to politics in Jharkhand. The video clip is of Rajeev Arun Ekka, Principal Secretary to Chief Minister Hemant Soren, in which he is allegedly sitting in the private office of a builder, Vishal Chowdhary, handling government files. After the video clip surfaced on Sunday, the state government issued a notification late evening removing him from the post of Principal Secretary to the Chief Minister. Ekka was also the Principal Secretary of Home Department and Information and Public Relations Department. Removing him from these posts too, he has now been made the Principal Secretary of the Panchayati Raj Department.
Questions raised on the state government
This video clip was released by Bharatiya Janata Party Legislature Party leader and former Chief Minister Babulal Marandi in a press conference on Sunday. He raised serious questions on IAS Rajeev Arun Ekka and the state government. He claimed that in this video, Ekka is not only handling files in the private office of a power broker, but is also discussing money transactions with a person present there. His words can be heard clearly in the video. In this video, a woman standing next to IAS Rajeev Arun Ekka is flipping the file. This woman is being told the staff of Vishal Chowdhary.
Vishal Chowdhary is influential
The ED had also raided five locations of Vishal Chowdhary on May 24 last year in connection with the money laundering case involving former Jharkhand Mines Secretary Pooja Singhal. In fact, Vishal Chowdhary has been a very influential name in the power corridors of Jharkhand for the past few years. It is told that many big officials of the government have been coming and going continuously in his bungalow located in Ashok Nagar of Ranchi. Their gatherings have been gathering here. The ED had issued a lookout notice against Vishal Chowdhary after raids on his premises in May last.
Thailand was trying to escape
Meanwhile, on November 24, he was trying to escape to Thailand, when he was arrested at Delhi airport and handed over to ED. After this, the ED had released him directing him to appear for questioning. Once he also appeared before the ED for questioning, but since then he is said to be absconding. According to sources, the video clip which has gone viral is made from Vishal Chowdhary's mobile. ED has seized several mobiles of Vishal Chowdhary.
file disposal video viral
On the other hand, the Bharatiya Janata Party has said that this video of a power broker settling the file of the Principal Secretary to the CM clearly shows how corruption and brokerage dominates in this government. Former Chief Minister Babulal Marandi has demanded registration of FIR against Rajeev Arun Ekka and action against him. A BJP delegation will meet the Governor on Monday regarding this issue and by handing over a memorandum to him, a demand will be made to investigate the matter with ED and CBI.
(Input-IANS)