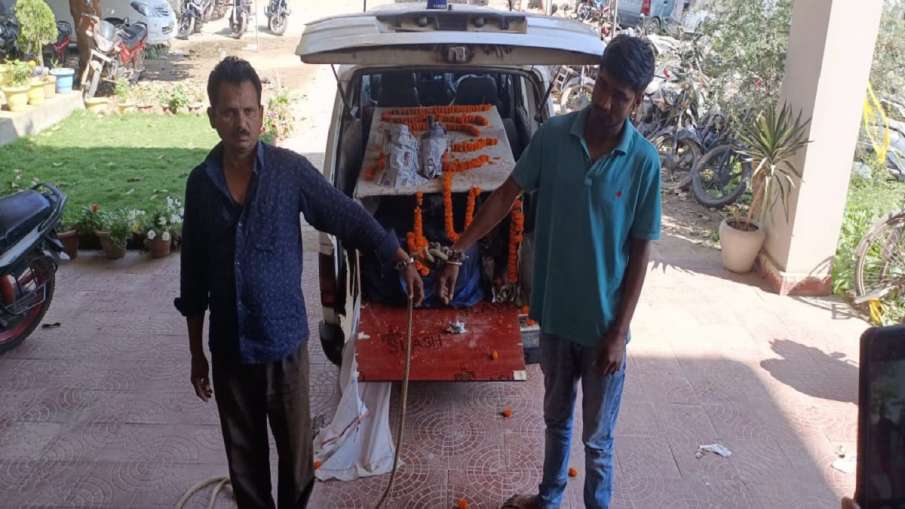 Patna: Despite prohibition in Bihar, drunkards are having fun because liquor smugglers have found a new way to supply. Now liquor is being supplied by placing it in a coffin inside the hearse. This was revealed when the police searched a dead body ambulance and then everyone was shocked to see what was found in it. This case pertains to Nalanda's Chamardiha intersection and it came to light when the Rajgir police station conducted a search operation in the area.
Liquor traders were carrying 146 bottles of foreign liquor by hiding them in an ambulance. The police caught hold of this liquor-laden vehicle and nabbed the driver-businessman. These people told during interrogation that they were coming to Bihar from Jharkhand with foreign liquor made in Delhi and Rajasthan. The arrested driver and businessman are residents of Jharkhand. Driver Punal Kumar is a resident of Bokaro and liquor baron Madan Sharma alias Madan Mishra is a resident of Giridih.
During interrogation, the arrested driver and businessman told that liquor was being taken from RIMS Hospital in Ranchi to Muzaffarpur. Rajgir police station had received a secret information and on the basis of this, the police launched a vehicle checking operation and got success after searching the dead body ambulance.
Please tell that the police is in full alert mode regarding Holi festival. Police is checking the vehicles entering through the border. The shocking thing is that the body was decorated with foreign liquor in huge quantity inside the coffin and flower garlands from above, so that the police could not doubt it.
Rajgir police station chief Mohammad Mustaq Ahmed said that a senior police officer had received a tip-off that a huge quantity of liquor was being brought to Bihar on a dead body ambulance from Ranchi. On this information, the police started a vehicle checking campaign. As soon as the speeding dead body ambulance was seen, it was stopped and searched. A huge quantity of foreign liquor has been recovered from here.
The driver and businessman are residents of Jharkhand. Jharkhand's registered number is on the seized dead ambulance. The police station chief told that the police is fully alert regarding the Holi festival and all the vehicles coming from Jharkhand are being searched.
read this also-
UP: Big news in Prayagraj's Umesh Pal murder case, the Muslim hostel in which the conspiracy was hatched was seized
Bihar: After Rawdi Devi, now Lalu Yadav may be questioned, what is the land for job scam case?