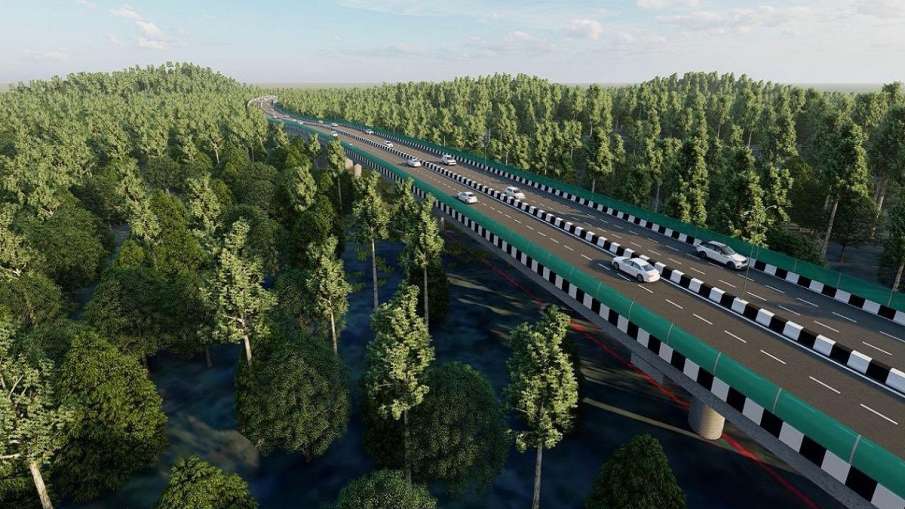 Rishikesh: Union Road and Transport Minister Nitin Gadkari, who reached Rishikesh in Uttarakhand, said, 'From January 1, 2024, the distance between Delhi and Dehradun will be covered in just two hours. After this, passengers will travel not by air but by road. He said that a double-decker ropeway would be constructed over the Ganga between Rishikesh Munikireti-Swargashram. Nitin Gadkari has come on a four-day stay in Uttarakhand.
On Sunday, he reached Parmarth Niketan Swargashram where he had a long discussion with Parmarth Niketan President Swami Chidanand Saraswati Maharaj on the expansion of road and ropeway. Addressing the devotees in the evening Ganga Aarti, Union Minister Nitin Gadkari said that history, culture and heritage are ours. It is a great power, Ganga is our heritage. While being the minister of Namami Gange, he got the good fortune of making Ganga unstoppable.
Gadkari said that on last Saturday I was going from Delhi to Rishikesh, inspected the roads at many places. But, I am not satisfied with the work done so far. There is still more work to be done in this. He further said, Dehradun The journey from Delhi to Delhi should be completed in 2 hours, for this we are getting the expressway constructed. This work will be visible on the ground from the first day of the year 2024. He said that we are going to connect Haridwar and Rishikesh directly from Akshardham. He informed that the Chardham project would be completed within a stipulated time period. In the coming time, not air service but road service will run between Delhi and Dehradun.
Read this also-
He also informed that the government is working on ropeways and cable cars at 260 places in the country, in which Kedarnath Dham is also included. 200 people can travel at a time in the double decker ropeway over the Ganges between Rishikesh Munikireti and Swargashram. The Union Minister said that he does not believe in making announcements. Whatever he has said on the banks of the Ganga will be seen on the ground.