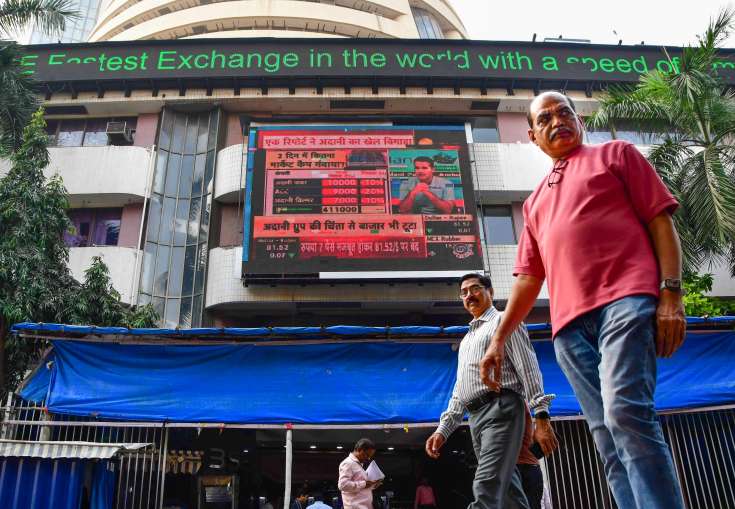 last week's On the last trading day i.e. Friday, there was a tremendous boom in the Indian stock market. Let us tell you that there was a gain of 899.62 points in the Sensex on Friday. At the same time, Nifty-50 also closed at 17,594.35 points with a gain of 272.45 points. Due to the return of purchases in Adani Group companies and support from foreign markets, there was a tremendous boom in the market. Investors of SBI and ICICI Bank benefited the most from the rally in the market. State Bank of India has seen the biggest increase in valuation among the top ten companies and it increased by Rs 35,832.32 crore to Rs 5,00,759.98 crore. The market cap of ICICI Bank increased by Rs 20,360.13 crore to Rs 6,06,514.71 crore.
Market cap of five companies increased and 5 decreased
The market capitalization (market cap) of five of the top 10 most valuable Sensex companies collectively increased by Rs 88,604.99 crore last week. State Bank of India and ICICI Bank benefited the most. While HDFC Bank, ICICI Bank, State Bank of India, HDFC and Bharti Airtel gained market valuation, Reliance Industries, Tata Consultancy Services (TCS), Infosys, Hindustan Unilever and ITC declined. The market valuation of HDFC Bank rose by Rs 15,236.59 crore to Rs 9,01,307.58 crore and that of HDFC rose by Rs 13,051.48 crore to Rs 4,84,417.42 crore.
Airtel's market cap also increased
The market capitalization of Bharti Airtel increased by Rs 4,124.47 crore to reach Rs 4,26,158.52 crore. However, the market valuation of Infosys declined by Rs 30,150.9 crore to Rs 6,22,711.80 crore, while that of Tata Consultancy Services declined by Rs 20,966.36 crore to Rs 12,23,129.40 crore. The market valuation of Hindustan Unilever declined by Rs 3,336.42 crore to Rs 5,80,360.79 crore and that of Reliance Industries declined by Rs 507.03 crore to Rs 16,13,602.63 crore. ITC's market cap also declined by Rs 24.72 crore to Rs 4,77,886.13 crore.
Reliance still on top
Reliance Industries retained the first position in the list of top 10 companies. It was followed by TCS, HDFC Bank, Infosys, ICICI Bank, Hindustan Unilever, SBI, HDFC, ITC and Bharti Airtel respectively. Due to this, the BSE's 30-share Sensex managed to close 345.04 points or 0.58 percent last week.