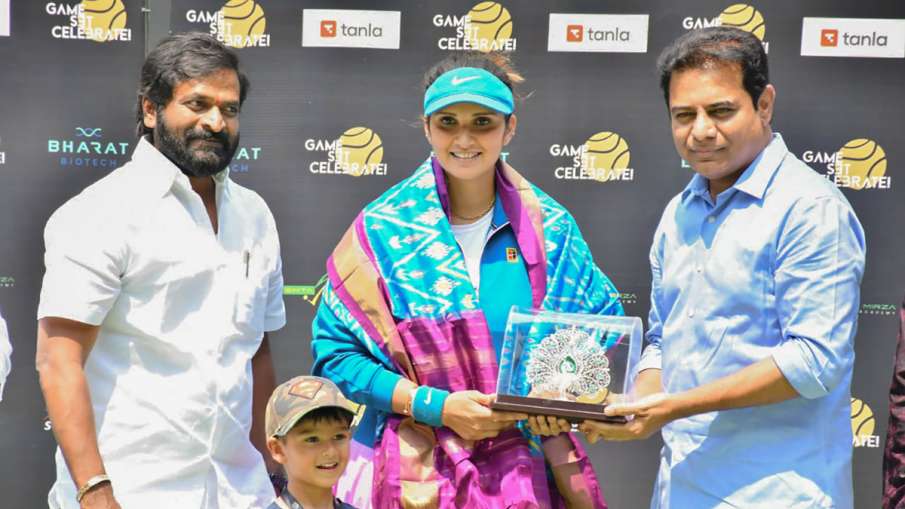 India's star tennis player Sania Mirza has retired from tennis. He ended his career in Hyderabad with moist eyes. It was a very emotional moment for Sania. He started his tennis career from this place and ended it here as well. Sania played the last match of her career at the Lal Bahadur Tennis Stadium in Hyderabad. It was at this stadium that she signaled her arrival on the big stage nearly two decades ago by winning a historic WTA singles title.
many stars were present
Many veterans were present on the ground to see Sania's match. Rohan Bopanna, Yuvraj Singh and his best friend Bethanie Mattek-Sands also came to see the table. During this, many celebrities including Union Law Minister Kiren Rijiju and former captain of the Indian cricket team Mohammad Azharuddin were involved. Many celebrities and spectators welcomed Sania with applause when she reached the ground for the match. Sania became very emotional in her farewell speech after the match, saying that playing for the country for 20 years has been her biggest honour.
What did Sania Mirza say
The six-time Grand Slam winner (three in women's doubles and three in mixed doubles) played two mixed doubles matches and won both. Sania has won many memorable titles in this stadium. His farewell ceremony was celebrated like a festival. During this, banners like 'Celebrating the Legacy of Sania Mirza' were put up. Some fans were holding placards in their hands. These placards read 'Thank you for the memories' and 'We will miss you Sania'. School children had also reached the ground to watch her match and as soon as Sania stepped on the court, everyone started 'cheering' for her.
Before the match, Sania said, I am very excited to play my last match in front of all of you. Thanking everyone who has supported her in her journey, Sania said, "The biggest honor for me has been to play for my country for 20 years. It is every sportsperson's dream to represent their country at the highest level. I was able to do that." Sania got emotional after seeing the cheering of the audience. He said, "These are tears of happiness. I couldn't have asked for a better farewell." Sania said that even though she has said goodbye to the sport, she will continue to be a part of tennis and sports in India and Telangana. Rama Rao and Telangana Sports Minister V Srinivasa Goud felicitated Sania after the match.
read this also