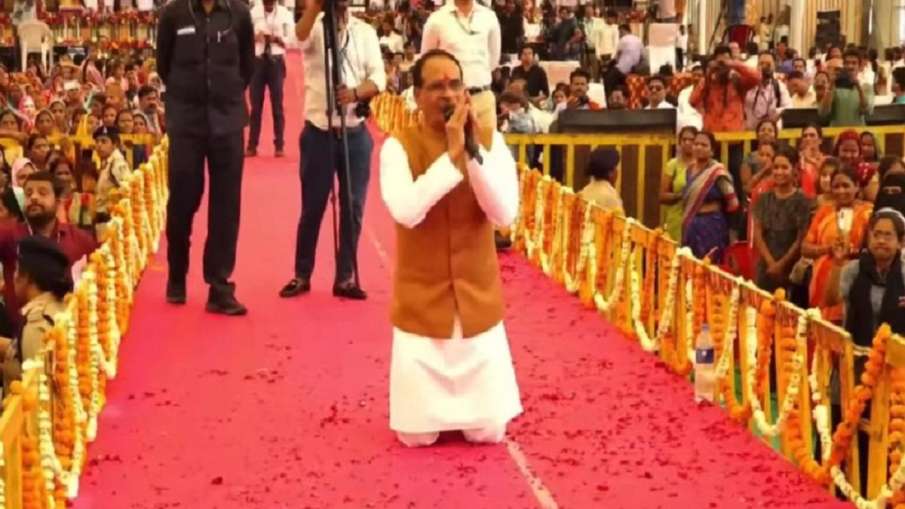 Bhopal: Madhya Pradesh Chief Minister Shivraj Singh Chouhan launched the ambitious Mukhyamantri Ladli Yojana on the occasion of his birthday (5 March). It is being seen as a game changer before the 2023 elections. In this scheme, women belonging to weaker sections will be given thousand rupees every month.
Regarding this scheme, CM Shivraj sat down on his knees in front of the women on the stage itself and said, 'Sisters, tears should never come in your eyes, with this appeal, I bow down to my sisters with folded hands and say that sisters are for me. There are Durga, Lakshmi, Saraswati. Greetings to all, salutations to all and promise to cooperate with all. This brother tells you again, don't give even a penny to anyone, whoever messes up, tell me. A dear sister will also make an army. Don't worry, we will fix those who mess up.
Application starts from 25 March
Inaugurating the scheme, CM Shivraj Singh Chouhan announced from the stage that the applications would start from March 25. Applications will be filled by 30 April. But if needed, this date will also be extended further. Forms of sisters from 23 to 60 years will be filled under this scheme.
CM Shivraj Singh Chouhan, while addressing lakhs of women from all over the state at Bhopal's Jamboree Maidan, said that on June 10, the first installment of 1000 will come into the accounts of the sisters.
Why did you make the Ladli Behan scheme?
On the occasion of the launch of CM Ladli Bahna Yojana, Shivraj said that mother, sister and daughter have always been respected on the land of our country. We consider daughters and sisters as Durga, Lakshmi and Saraswati. If you want to take the name of Vishnuji, then you say Lakshminarayan, if you want to take the name of Krishnaji, you say Radhakrishna and if you want to take the name of Shri Ram, you say Sitaram. But later the daughters became victims of discrimination. I saw in my family and my village, when a son was born, drums were played, songs were sung, laddoos were distributed. Who will study, brother will study and what will the daughter do? It pained my heart to see this.
CM Shivraj said that when I was young, no one used to listen to my voice. I used to give a speech that if there is a daughter, there is tomorrow, let the daughter come! An old mother said that if the daughter comes, will you bear the expenses of her education and marriage? Then I thought that speech alone would not work, so when I became MLA-MP, I started getting my daughters married with my allowance. As soon as I became the Chief Minister with your blessings, I first started the Kanya Vivah Yojana. I have decided that the BJP government will get the poor daughters married!
Kamal Nath was also attacked
During this, CM Shivraj also surrounded Kamal Nath. He said that we made Chief Minister Kanya Vivah Yojana but it is a different matter that when Kamal Nath's government came, this scheme was stopped and money was not given even after getting married. We made plans continuously but Kamal Nath stopped all the plans. When Kamal Nath came, he had stopped giving food subsidy to Baiga, Bharia and Sahariya sisters.
How Ladli Laxmi Yojana came into being?
Shivraj told from the stage that I felt that only girl marriage would not work. Make a daughter a blessing, not a burden. For this it was decided that the daughter would be born a millionaire. That's why Ladli Laxmi Yojana was made. In this, it was decided that Rs 30,000 will be deposited in the account of a daughter when she is born, and Rs 1,18,000 will be received when she turns 21. Today more than 44 lakh Ladli Lakshmi are in Madhya Pradesh.
He said that after this we decided that books, uniforms and cycles would also be arranged for the girls to go to school. We planned to give Rs 16,000 to the poor pregnant laborer sister.
How was the plan made for Ladli Behan Yojana?
CM Shivraj told that I thought that real brother comes once a year on Rakshabandhan and gives gifts to sisters. It came to my mind that you should also give something. I also thought that I will give something throughout the year, not once in a year. With this thought, the Chief Minister Ladli Bahna Yojana was formed.
He said that the BJP government has decided that all the poor and lower middle class sisters, whose family income is less than Rs 2.5 lakh per year, or who have less than 5 acres of land, there is no other condition, all such Will send 1,000 rupees every month to the sisters.
He said that women would get Rs 12,000 a year. If there are two daughters-in-law, Rs 24,000, if there is a mother-in-law in the house, I will reduce her pension to Rs 1,000, if the husband is a farmer, he will get Rs 10,000 from the Kisan Samman Nidhi. With this, a family will get help of Rs 56,000 in a year.
He said that this will increase the respect of my sisters and the love between mother-in-law and daughter-in-law will also increase. Sisters will make good use of this money and will also give money to their husbands if needed. This is a great campaign to change the lives of sisters.
What is the eligibility of this scheme?
CM Shivraj Singh Chouhan tried to explain to the women through the platform, how they can be involved in this scheme. He told that my sisters, you do not need to get any certificate made. Just write, your brother will agree.
He said that a camp would be held in your ward in the city. I will set up camp in the village as well. Don't get fooled by any tout. If anyone does brokerage, then call 181, I will get you handcuffed and sent to jail.
He said that the form should not be filled in a single day. We will give training to our employees and BJP workers. 30 applications will be filled in a day. The camps will continue till the applications are filled completely. You will be informed in your locality. No need to worry.
Will hang those who misbehave with daughters: Shivraj
CM Shivraj Singh Chouhan said that if someone misbehaves with innocent daughters, he will be hanged. In the past, Shivraj Singh Chouhan had decided to ban the existing enclosures outside liquor shops. Explaining this, he said that I have decided to close the premises of all liquor shops. If someone misbehaves with an innocent daughter, I will hang him. He said that if my sisters live with dignity and respect, then my becoming Chief Minister will be successful. Sisters are Durga, Lakshmi and Saraswati for me.
read this also-
'Dirty politics' of rulers ruined Pakistan, former Pak general gave sensational statement
Did our country get freedom by sprinkling cow urine? Uddhav targeted Shinde group and BJP, know what else he said