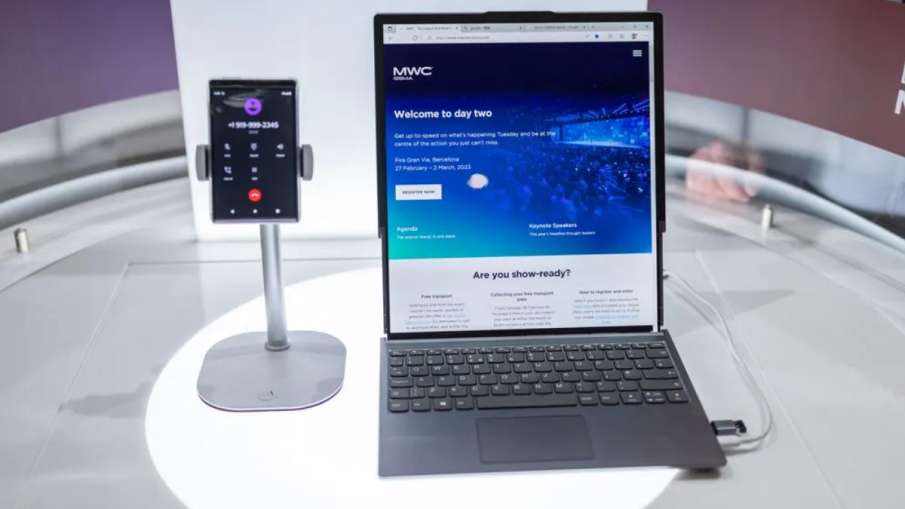 Lenovo Rollable Concept Laptop: Recently, the world's biggest tech show Mobile World Congress ended in Barcelona. In this tech show, well-known companies from all over the world launched their smartphones and electronic gadgets. Many companies also showcased their concept devices. Giant company Lenovo also showed many of its products in this event. Lenovo showcased a laptop with a flexible display at MWC 2023, which caught everyone's attention. The most special thing about this laptop is that its display is a rollable display.
Screen becomes bigger than 15 inches
If Lenovo launches its concept laptop in the market, then it is not going to be less than a magic. It has a physical button which when tapped will lengthen its display. It has two displays that slide in and out. In normal condition, its screen size is 12.7 inches, but it can be extended up to 15.3 inches with a single button.
This first Lenovo laptop is the world's first laptop that comes with a flexible display. Its display becomes bigger in the ratio of 8: 9 as soon as the button is tapped. If you are a working professional then this long screen format is a better option for you.
Easy to work on long web pages or spreadsheets
The biggest advantage of having a rollable screen is that the need to repeatedly scroll down any kind of large web page will not be a problem. Along with this, working on large spreadsheets will also be very easy.
Lenovo's rollable screen laptop works on the same technology as Motorola's rolling phone. In Motorola's rollable smartphone, users get the option of extendable screen which helps users to watch videos in 16:9 ratio. At present, no information has been given by Lenovo whether the company will launch this concept laptop in the market or not.
Also read- ChatGPT Failed in UPSC: ChatGPT failed miserably in UPSC exam, answered only these questions