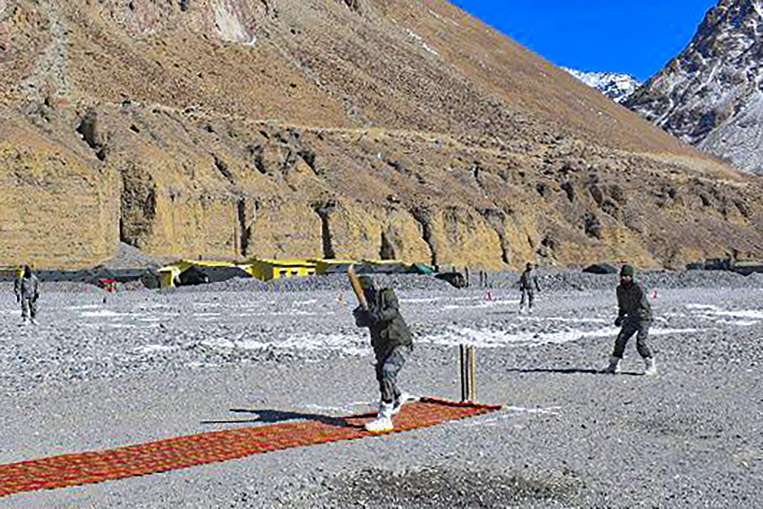 New Delhi: Indian Army soldiers have stunned even the enemy by playing cricket at a height of 14 thousand 500 feet in the Ladakh region bordering China and in sub-zero degree temperature. On the icy mountain where it is difficult to stand for a few seconds and minutes and where even the blood of the veins starts getting cold, where the breath starts becoming ice and the icy winds start scorching the face, in such an inhospitable area, the soldiers of the Indian Army The soldiers have done the work of giving a big message to the enemy by hitting fours and sixes. Knowing this, even China has lost its senses.
In fact, the Indian Army has released pictures and videos of its soldiers playing cricket in the high-altitude forward area in the eastern Ladakh region amid the ongoing standoff with China on the Line of Actual Control (LAC). The Army's Leh-based Fire and Fury Corps released the pictures and said, "We make the impossible possible." The meaning is clear that even where the enemy would think that the Indian Army would not be able to patrol, the soldiers are playing cricket there. This is enough to crush the morale of the enemy. At the same time, to tell this, the Indian Army is keeping an eye on every aspect and it is also fearless. If the enemy even tries to infiltrate anywhere, he will not be well.
Jamai pitch at an altitude of 14,500 feet
Army sources said that the match was played at an altitude of 14,500 feet, which shows the high morale and enthusiasm of the troops deployed in the difficult terrain. However, the exact location where the soldiers played cricket has not been given. The 'Fire and Fury Corps' said in a tweet on Friday that the cricket competition was held in an area of ​​"extreme altitude" in sub-zero temperatures. The army said, "The cricket tournament was organized with full gusto at this very high altitude venue in sub-zero temperature by the Patiala Brigade Trishul Division. We make the impossible possible." The event was held amid the ongoing standoff between the troops of India and China in Demchak and Despang areas.
read this also
The Prime Minister of this neighboring country was accused of 5 thousand murders, the Supreme Court approved the petition
Two separated families met after 75 years of India-Pakistan partition, now each other's religion has changed