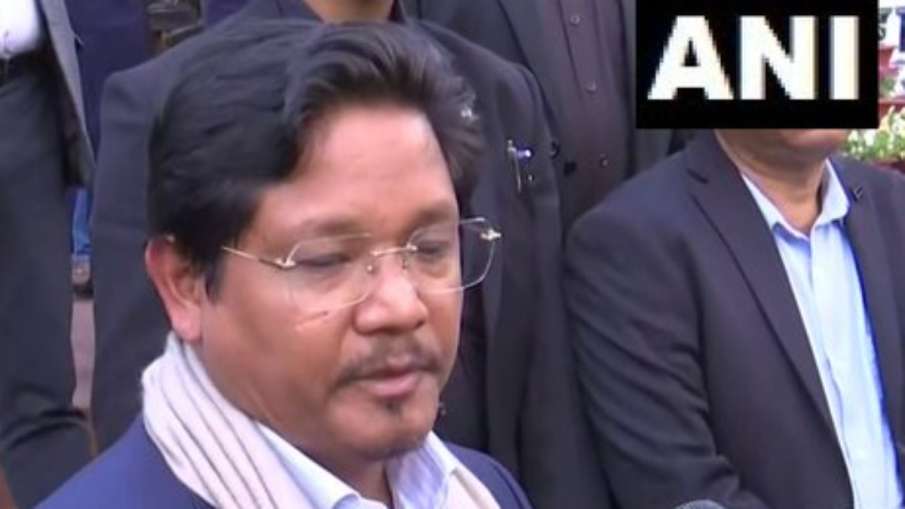 Shillong: Meghalaya Chief Minister Konrad Sagama has informed that he has received a letter from the Governor inviting him to form the government. The swearing-in ceremony will take place on March 7 at 11 am at the Raj Bhavan. We are expecting the Prime Minister, Home Minister and other leaders to attend the swearing-in ceremony. Earlier, former Deputy Chief Minister and National People's Party (NPP) MLA Prestone Tynsong said on Saturday that the swearing-in ceremony of the NPP-led government in Meghalaya would take place on March 7.
Earlier, senior National People's Party (NPP) legislator Timothy D Shira was sworn in as the Pro tem Speaker of the Meghalaya Legislative Assembly on Saturday. Shira, MLA from Resubelpada, was received by Governor Fagu Chauhan at the Raj Bhavan by outgoing Chief Minister Konrad K. Sangma and administered the oath in the presence of senior NPP leaders.
PM Narendra Modi, Amit Shah will be present in swearing in
Prestone Tynsong said that "Prime Minister Narendra Modi and Union Home Minister Amit Shah will attend the swearing-in ceremony on March 7. Assam Chief Minister Dr. Himanta Biswa Sarma, who is also the convenor of NEDA, will attend the swearing-in ceremony. Our We have enough numbers to form the government and we are also talking to other political parties and there is talk of increasing the number of MLAs to 38-40."
Let us inform that Konrad Sangma had on Friday staked claim to form the next government in the state with the support of 32 MLAs. These include 26 MLAs from the NPP, two each from the Bharatiya Janata Party (BJP) and the Hill State People's Democratic Party (HSPDP) and two independents.
Incidents of violence came to the fore after the elections.
Reacting to some incidents of post-poll violence in different parts of the state, Preston Tynsong said, "We will not allow anyone to break law and order. There were some violent incidents last night and we have asked the state police to arrest the culprits." Instructed to take strict action against him."
Earlier on Friday, the district administration of West Jaintia Hills had imposed curfew in Meghalaya's Sahasniang village till further orders following reports of violence after counting of votes. In an order issued from the District Magistrate's office, the administration said that it has received information regarding the violence that took place after the counting of votes in Sahasniang village. "There is an apprehension that if unchecked, the violence may spread and intensify and result in damage to property and is likely to result in loss of life," the order said.
read this also:
Atiq Ahmed's two sons were found in suspicious condition by the police
NIA gives big blow to terrorist-gangster-drug smuggler network, attaches 5 properties in Delhi-Haryana