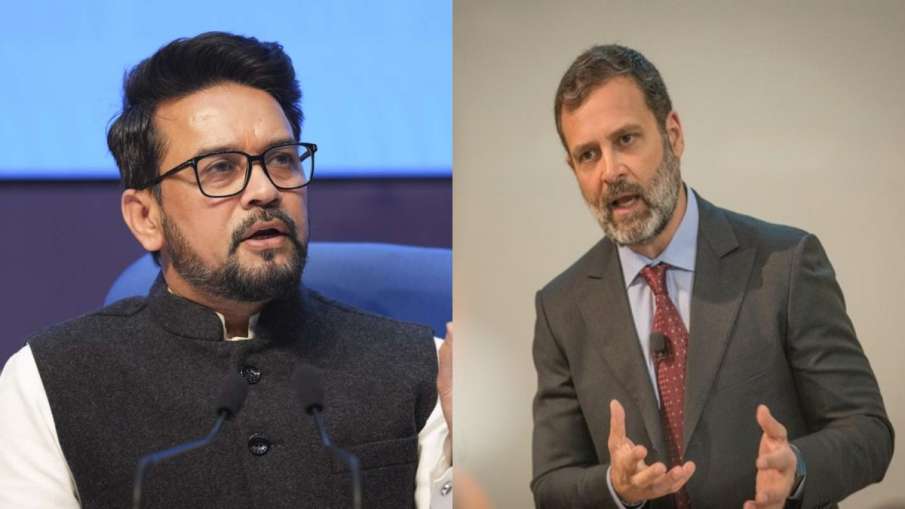 Union Minister Anurag Thakur has retaliated on Rahul Gandhi's allegation of spying through Pegasus. He said that Rahul Gandhi has a habit of lying and defaming India. It questions the agenda of the Congress party. He said that this repeated attempt to defame the country, which is done from foreign soil, raises a question mark in itself that what is the agenda of the Congress?
'India's prestige has increased under Modi's leadership'
Anurag Thakur said, "Rahul Gandhi is once again creating hue and cry on foreign soil. Pegasus is in his mind. India's respect has increased worldwide under the leadership of PM Modi and these big leaders are saying " He said that Rahul Gandhi should listen to what the Italian PM said about Prime Minister Modi.
'What was the compulsion that I did not deposit my phone'
The Union Minister said, "Pegasus is not sitting anywhere but in his mind. What was Rahul Gandhi's compulsion on Pegasus that he did not surrender his phone. Why did he and other leaders not surrender their phones." Adding to it, he said, "Yesterday's election results show that Congress has been wiped out once again. Congress is not able to accept people's mandate and yesterday's results show that people trust PM Modi. "
His needle is stuck somewhere: Ashwini Vaishnav
Union Minister Ashwini Vaishnav said that what to say about Rahul Gandhi's words… his needle is stuck somewhere, he needs to move a little further.
Rahul alleges phone spying through Pegasus
Significantly, Congress leader and Wayanad MP Rahul Gandhi participated in a program of Cambridge University in London. In this program, he fiercely attacked the Modi government of India. Rahul Gandhi spoke of being under the control of institutions in India. Along with this, he also accused of spying on his phone. Rahul Gandhi alleged that he was spied on through Pegasus in the phone.
read this also-
Mamta Banerjee gave a big blow to the opposition unity, said – will not go with any political party
Rahul Gandhi is not giving up the pursuit of PM Modi even in London, attacked the Government of India even on foreign land