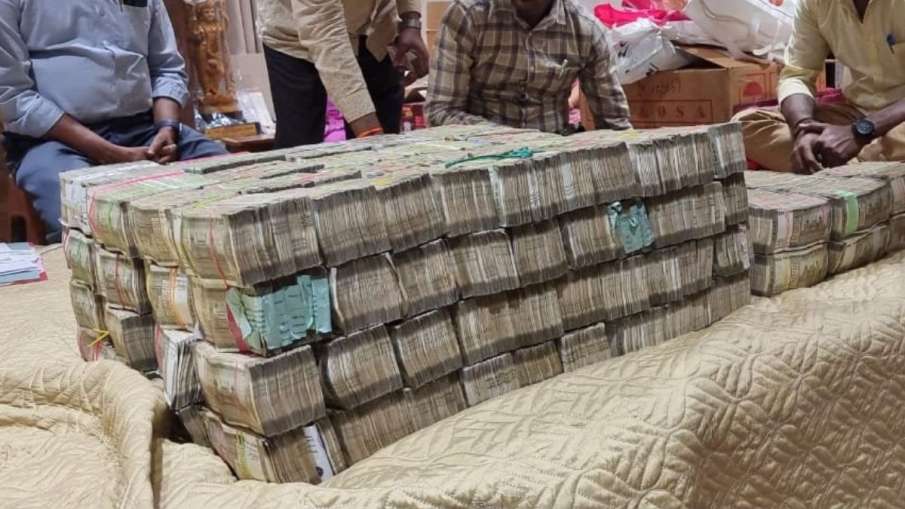 The anti-corruption branch of the Lokayukta had yesterday arrested Prashant Madal, son of BJP MLA Madal Virupakshappa, while accepting a bribe of Rs 40 lakh. Over Rs 1.7 crore in cash was also recovered from his office. Karnataka Lokayukta informed that Prashant Madal is the Chief Accountant in BWSSB. Today Lokayukta officials raided the residence of Prashant Mandal in Bengaluru. From where about Rs 6 crore cash has been recovered and the search is still going on.
Rs 7.62 crore recovered from houses so far
In fact, after nabbing BJP MLA's son red-handed taking bribe of Rs 40 lakh yesterday, Lokayukta officials have so far recovered Rs 7.62 crore in cash from his and his associates' houses while continuing the raids. Sources confirmed this on Friday. The raid is also going on at the MLA's residence. The Lokayukta team found the cash at the residence and office of Prashant, son of BJP MLA Madal Virupakshappa, who works as the chief accountant of the Bengaluru Water Supply and Sewerage Board (BWSSB).
1 crore 22 lakh cash found during investigation in the office
Let us tell you that after raiding the office of BJP MLA Virupakshappa yesterday, a team of Lokayukta officers caught the MLA's son and a government official Prashant on charges of taking a bribe of Rs 40 lakh. During the investigation in the office, apart from Rs 40 lakh, Rs 1 crore 22 lakh cash was also recovered. According to the investigating officer, it is clear that Rs 1 crore 62 lakh found in the office is bribe money. Accused Prashant is being questioned about the source of income of Rs 6 crore cash and jewelery found at his residence. Lokayukta sources said Prashant's brother-in-law Siddhesh, accountants Surendra and Nicholas and two others named Gangadhar, who came to hand over Rs 40 lakh in cash, have been arrested.
Karnataka CM said on the raid on MLA's house
At the same time, the statement of Karnataka CM Basavaraj Bommai has also come out on this matter. CM Bommai said, "Now everything is in front of the Lokayukta, let there be an independent and fair investigation from their side. Whose money is it for whom, let all these things come to the fore. The truth needs to come out, that's why we have appointed the Lokayukta." What are Congress leaders saying, first ask them why ACB was shut down to save many of their ministers and MLAs who were caught in corruption charges. Why was ACB shut down for 5 years, now Lokayukta is probing It is happening, their scams will also come to the fore, let everything be investigated, we are with the truth, whoever is at fault will be punished."
read this also-
Sukesh explodes another bomb! 'Kejriwal is the biggest scammer, scammed children's education too'
Maulana threatened riots in the meeting with the police, said – If the mosque is painted…