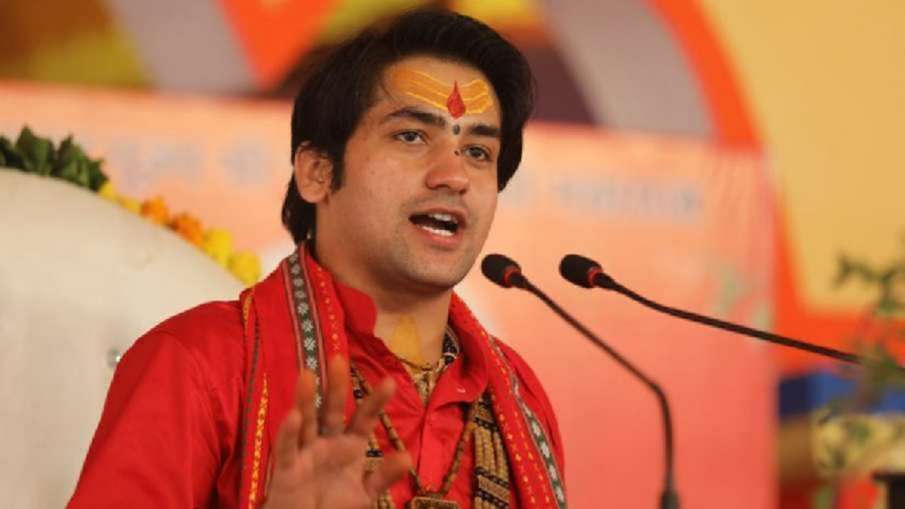 Bhopal : Will Dhirendra Krishna Shastri, who has become the new poster boy of Hindutva, the new Sanatani face, now campaign for Congress? Has Dhirendra Krishna Shastri given his blessings to former Chief Minister and Congress State President Kamal Nath who came to his abode in the past? In fact, the news of this method started spreading very fast in the social media of Madhya Pradesh from this morning when the headline of a newspaper went viral in all the groups.
Will march in support of Congress
According to the heading of this news, "Dhirendra Shastri will walk 121 kilometers in Madhya Pradesh in support of Congress". It was further written in the cutting of this newspaper that the role of Bageshwar Dham is going to be important in the elections of Madhya Pradesh to be held in 2023. According to the news, in the past, Congress State President Kamal Nath met and discussed with Dhirendra Krishna Shastri in a closed room for about half an hour. After which Dhirendra Krishna Shastri will now set out on a 121 kilometer walk.
News of CM Shivraj's meeting with Dhirendra Shastri
In this news which is going viral on all social media platforms in Madhya Pradesh, it is further written – Chief Minister Shivraj Singh Chouhan, BJP State President BD Sharma and Home Minister Narottam Mishra also went to meet Dhirendra Krishna Shastri as soon as Dhirendra Krishna Shastri expressed his support to Kamal Nath. Arrived but by then Dhirendra Krishna Shastri had assured to support the Congress.
Obviously, as soon as this news went viral, speculations started in the social media about Baba Bageshwar entering politics. India TV team spoke to Sundar Rackwar, a member of the core committee of Peethadhishwar Dhirendra Krishna Shastri of Bageshwar Dham to fact-check this news.
The news is completely false – Sundar Rackwar
Sundar Rackwar clarified in a special conversation with India TV that the news of taking out the 121 kilometer walk is completely false and based on untruths. Dhirendra Krishna Shastri is about to take out a padyatra from village Garha to Ramraja temple court in Orchha to inculcate the concept of Hindu nation and social harmony in the public mind. The Bageshwar Dham government has already said in public forums that their only party is Hanuman ji's party. Whose only flag is the saffron flag. The conspiracy to harm Sanatan Dharma is clearly visible from this type of news. This news is an attempt to defame Bageshwar Dham.
The bench has no connection with any political party – Rackwar
Sundar Rackwar told India TV that Bageshwar Dham is a religious shrine where leaders of all parties, including the Congress and the BJP, come to mark attendance at Balaji. The bench has no affiliation with any political party.
Bageshwar Dharma Sarkar called the tweet news misleading
As soon as this news went viral, the Bageshwar Dharam Sarkar, in an official tweet, termed this news as completely wrong and misleading and wrote that 'Pujya Gurudev Bageshwar Dham Sarkar is neither in favor of any political party nor will it be" "There is only one party of God Gurudev Hai Hanuman ji's party whose flag is saffron flag" India TV's fact check team found this news viral on social media as fake.