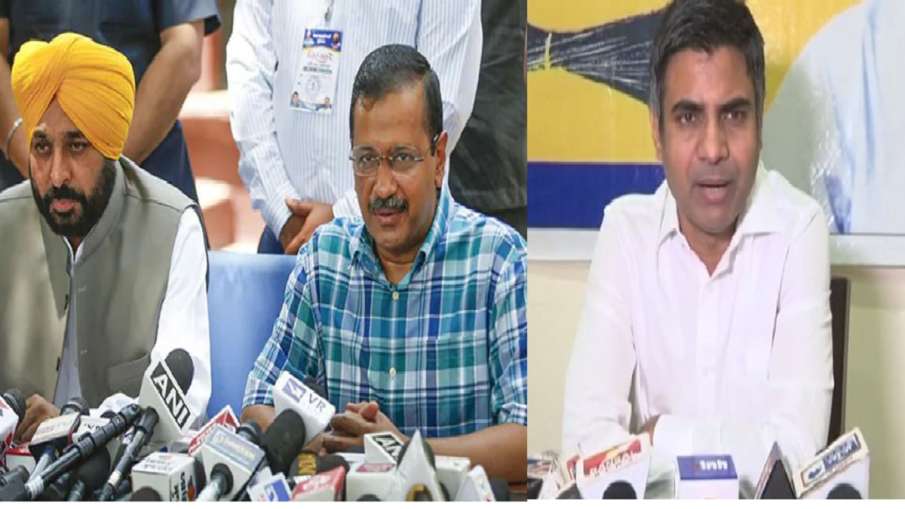 Bhopal: After the victory in Delhi and Punjab, the effect of Aam Aadmi Party becoming a national party is now clearly visible. The Aam Aadmi Party now wants to make its entry on the political pitch of Madhya Pradesh, that is why on March 14, the supremo of Aam Aadmi Party and Delhi Chief Minister along with Punjab Chief Minister Bhagwant Mann are coming to the capital Bhopal to seek political ground.
Assembly elections after just 8 months
According to Aam Aadmi Party's national spokesperson and Rajya Sabha MP Sandeep Pathak, Delhi Chief Minister Arvind Kejriwal and Punjab Chief Minister Bhagwan Singh Mann are coming to hold a big meeting in the capital Bhopal on March 14. In fact, there are assembly elections in Madhya Pradesh just after 8 months. In such a situation, apart from preparing to give a tough fight to Congress and BJP, AAP is also working towards strengthening the organization.
People are troubled by both BJP and Congress – Sandeep Pathak
National General Secretary of Aam Aadmi Party and Rajya Sabha MP Sandeep Pathak, who reached Jabalpur to strengthen the organization of Aam Aadmi Party in Madhya Pradesh, told that the people are fed up with both BJP and Congress, they want such a party in Madhya Pradesh which works honestly. . He said – Arvind Kejriwal's politics is honest, so this time the people of the state are going to give a chance to Arvind Kejriwal in Madhya Pradesh elections.
AAP became a national party within 10 years – Sandeep Pathak
According to Sandeep Pathak, this is the first time that any party in the country and the world has become a national party within just 10 years, which proves that the party has developed in an unprecedented manner. Our aim is not to contest elections and win elections, it is a process to contest elections for political party so we will do that. Arvind Kejriwal and Bhagwant Mann are coming to Bhopal on 14th March. Meetings are going on in every division for their meeting to be held in Bhopal.
AAP had snatched the mayor's post from BJP in Singrauli Municipal Corporation elections.
Let us tell you that in the municipal elections held in the past, the Aam Aadmi Party had also snatched the important mayor's post from the hands of the BJP in Singrauli. Encouraged by this victory, the Aam Aadmi Party is trying to register its presence in Baghelkhand, which is considered to be the stronghold of the BJP, as well as in Bundelkhand, Gwalior, Chambal, Mahakaushal and Madhya Pradesh.