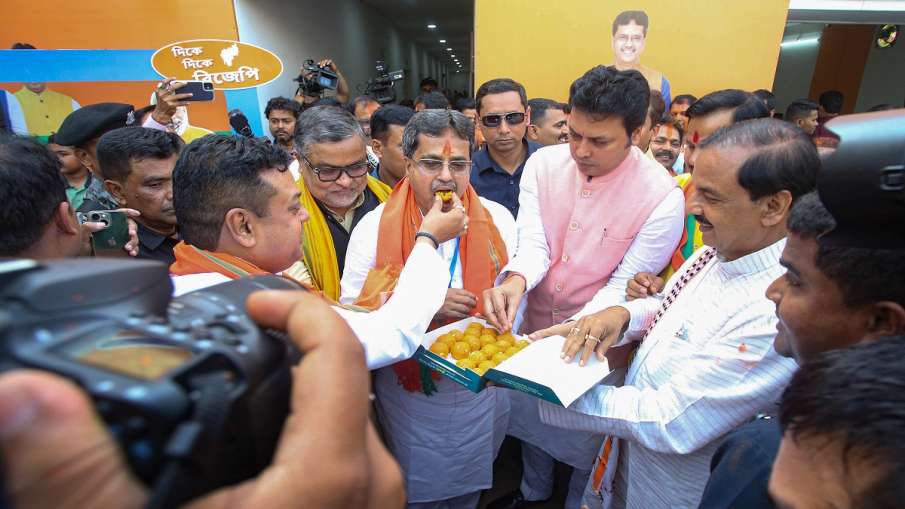 Agartala: After running the government for five years in Tripura, the BJP has again made a grand comeback. The BJP retained power for the second consecutive term by winning 32 of the total 60 assembly seats in Tripura. The BJP needed 31 seats for a majority, but the party has secured one seat more. Polling was held in the state on February 16 and the results were declared on Thursday. The tribal-based Tipra Motha Party (TMP), which for the first time contested 42 seats on its own, emerged as the second largest party with 13 seats, according to the results announced by the Election Commission on Thursday. The CPI(M) has won 11 seats while the Congress has got three seats.
Trinamool Congress failed to open account
The CPI-M-led Left Front contested the election in a seat-sharing arrangement with the Congress. It fielded 47 candidates, while 13 seats were allotted to the Congress. BJP's ally Indigenous People's Front of Tripura (IPFT) has won the Jolaibari seat in South Tripura. According to reports, in the 2018 assembly elections, the BJP won 36 seats, its ally IPTF eight and the CPI(M) 16. However, the Trinamool Congress, which ran a high-voltage campaign in Tripura for the elections, failed to open its account in the state.
BJP President lost by a margin of 1,369 votes
Chief Minister Manik Saha won from Town Bordowali, his cabinet colleague Ratan Lal Nath from Mohanpur and Union Minister Pratima Bhowmik from Dhanpur seat. However, Deputy Chief Minister and senior BJP leader Jishnu Dev Varma lost in Charilam against TMP's Subodh Deb Barma by a margin of 858 votes. State BJP president and first-time candidate Rajiv Bhattacharya lost in Banamalipur against Congress candidate Gopal Chandra Roy by a margin of 1,369 votes. In the 2018 assembly elections, former chief minister and BJP leader Biplab Kumar Deb won from Banmalipur.
These veteran leaders were re-elected
State ministers Rampada Jamatia (Bagma), Sushant Chowdhary (Majlispur), Ratan Lal Nath (Mohanpur), Ram Prasad Paul (Suryamaninagar), Assembly Speaker Ratan Chakraborty (Khairpur), Deputy Speaker Biswa Bandhu Sen (Dharmanagar), senior BJP leader Surjit Dutta (Ramnagar) has also been re-elected to the State Legislative Assembly. However, two sitting BJP MLAs Dilip Das (Barjala) and Krishnadhan Das (Bamutia) lost against CPI(M) candidates. The CPI-M won 11 seats in Pratapgarh, Khowai, Kadamtala-Kurti, Sabroom, Sonamura, Bamutia, Hrishmukh, Jubrajnagar, Belonia, Boxanaga and Barjala. Important CPI-M candidates who won include state secretary Jitendra Chowdhary (Sabroom), Sudip Sarkar (Barjala), Dipankar Sen (Belonia) and Shyamal Chakraborty (Sonamura).
Read this also-
Congress candidates Sudip Roy Barman, Gopal Chandra Roy and state Congress chief Birjit Sinha have been re-elected from Agartala, Banmalipur and Kailashahar respectively. Important TMP candidates who won are Chitta Ranjan Debbarma (Ambassa), Pathan Lal Jamatia (Ampinagar), Animesh Debbarma (Asharambari) and Paul Dangshu (Karamchara).
On February 16, 89.95 per cent of the 28.14 lakh voters exercised their franchise to decide the fate of 259 candidates, including 31 women.