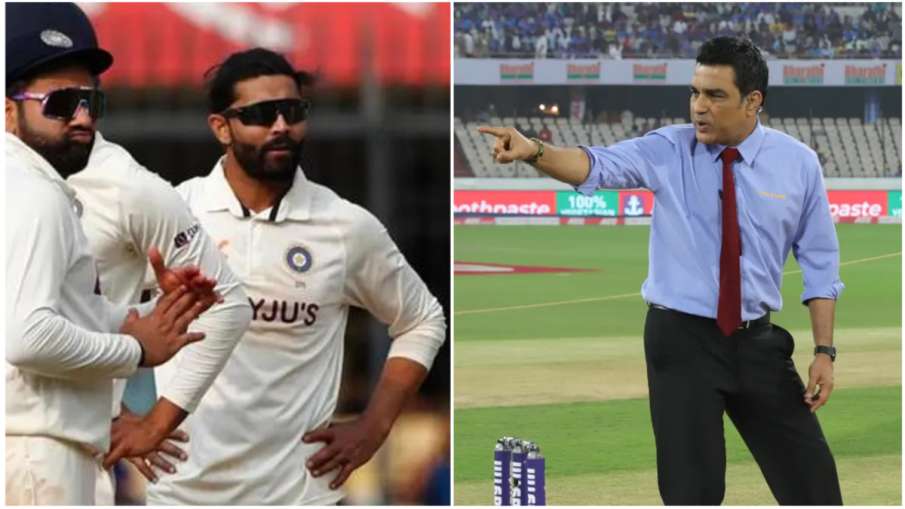 World's number one Test all-rounder Ravindra Jadeja took four wickets in the ongoing Indore Test against Australia but there were some unforced errors which put him on target. The first issue was the no ball which he bowled when Marnus Labuschagne's account was not even open and he got the wicket. Got such a big life from here that Labushen added 96 runs for the second wicket with Khawaja. After that comes the biggest issue of review. Which they spoiled not one, not two but all three. Captain Rohit Sharma's video was also going viral in which he is seen telling Jadeja about some review, although the captain's style was funny. But former India cricketer Sanjay Manjrekar has not taken it as a joke at all.
Sanjay Manjrekar and Ravindra Jadeja had a similar exchange of words on social media sometime back. After that both of them talked in the presentation ceremony after a match. But once again Manjrekar has taken a dig at Jadeja. He described his spoiling of two reviews on Usman Khawaja alone as a deep issue. Along with this, he also advised captain Rohit Sharma that for DRS you should give priority to the wicketkeeper. Manjrekar called Jadeja and Ashwin top bowlers but also called them very excitable in the matter of DRS. Let us tell you that Ravindra Jadeja forced Rohit Sharma for two reviews and on both the occasions the spinner's luck was not good. In the first, it was clear from the ball tracking system that the ball was pitching outside the leg stump. Eventually, on both the occasions, Khwaja was saved.
What did Manjrekar say?
Speaking on this issue, Sanjay Manjrekar said that this is a big issue for me. India wasted two reviews on Khawaja and it was Jadeja in both. In the first review you saw that the timer was almost over. When Rohit Sharma saw that he (Jadeja) was over eager, he took the review while the ball was pitching outside leg stump. The ball was missing the leg stump by about 6-8 inches. After this, the same was seen in the second one as well. That's the way India's star players are keen on reviews. At the same time, KS Bharath, who is present behind the wicket, who has better understanding, is not given importance to his opinion. Whereas the wicketkeeper can see and understand it more closely.
Manjrekar did not stop here, he described Ashwin and Jadeja as very keen and referring to Alex Carey, said that Alex Carey acts as the CEO of the Australian team in terms of reviews. I think Bharat who has a good idea should also get the same importance. There should be no difference between senior and junior when it comes to DRS. The timer goes on and soon you have to make a decision. Both Ashwin and Jadeja are very keen. He is definitely a brilliant bowler but very keen on reviews.
Significantly, in response to India's 109 runs, Australia took a lead of 47 runs on the first day itself. He still has 6 wickets left. Peter Handscomb and Cameron Green are at the crease. Alex Carey and Mitchell Starc are yet to come. India don't have a single review now. Team India spoiled all the three reviews on the very first day and all the three times the bowler was Ravindra Jadeja. In such a situation, it can be very difficult for Team India on the second day because given the level of field umpiring which has been at present, things are not going to be easy for Rohit Sharma.
Read this also:-