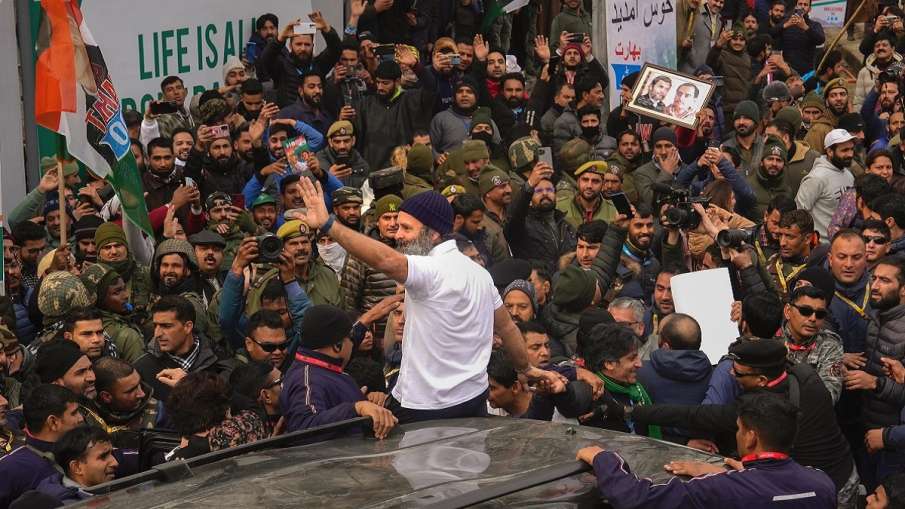 Nandangarh (Karnataka): Defense Minister Rajnath Singh on Thursday accused the Congress of questioning the valor of the armed forces and said its 'Bharat Jodo Yatra' was aimed at 'launching' its leader Rahul Gandhi. Taking a dig at Rahul Gandhi's 'Bharat Jodo Yatra', Singh said he had thought that Gandhi might visit Karachi or Lahore as part of this trip. Launching the second phase of BJP's 'Vijay Sankalp Yatra' here, he appealed to the people to support the party to form the government in Karnataka with a two-thirds majority in the assembly elections slated for May.
Singh said, "Do you know about the Youth Congress leader, he is being 'launched' now and for this he had done 'Bharat Jodo Yatra'. India was divided during the partition in the year 1947, so I thought that 'Bharat Jodo Yatra' Rahul Gandhican go to Karachi or Lahore, but he did not go there. Addressing a public meeting here, he asked who Gandhi tried to unite when the whole of India was united.
He said, "Politics cannot be done for long by fooling the people, those who do politics with confidence and talk to the public with eye contact can only succeed and those who are in the BJP should do so." Can." He accused the Congress of raising the slogan 'Modi teri kabr khudegi'. He said, "He (Prime Minister Narendra) is not digging Modi's grave, but is digging his own grave with such slogans." The more mud our Congress friends throw against the BJP and Prime Minister Modi, the more our lotus will bloom.
Read this also-
Accusing the Congress of questioning the courage and valor of the defense forces, he asked, "What happened to them?…. As Defense Minister I want to say that we are proud of our armed forces." Earlier in the day, Singh visited the memorial of Sangolli Rayanna here and paid homage to him, after which he started the journey. The Defense Minister called upon the people to take a pledge to form the BJP government in the state once again and this time with a two-thirds majority to form a "New Karnataka". He also highlighted India's growing stature globally and its emergence as an economic powerhouse under the current BJP government at the Centre. He said that the BJP government led by Modi will not tolerate terrorism and those who support it.