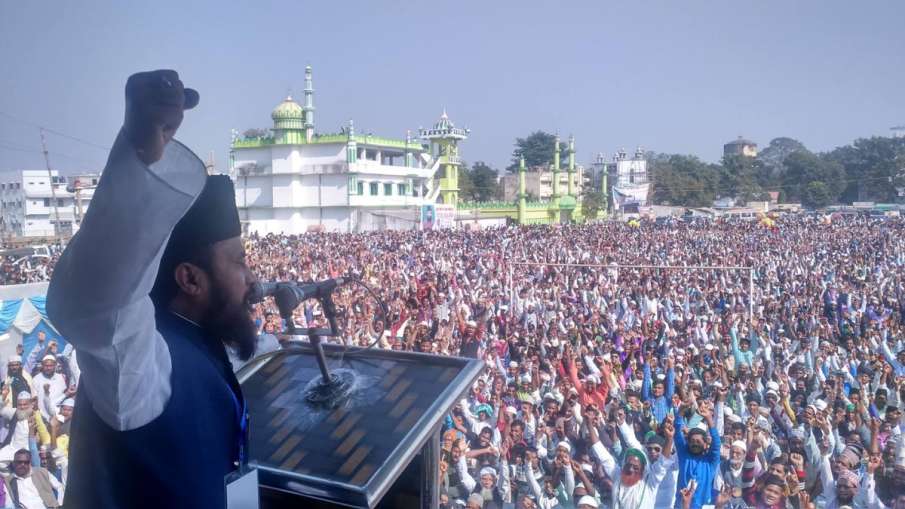 Patna: In the politics of Bihar too, splatters of communalism are continuously falling. Maulana Ghulam Rasool Baliyavi, a leader of Chief Minister Nitish Kumar's party JDU, is trying to instigate Muslims by talking about religion. According to the reports, Baliyavi Saheb is setting a different narrative by roaming around in the Muslim localities of Bihar. Baliyavi is provoking Muslims by saying that mosques are being demolished in India under the Modi government and their homes are being bulldozed.
'We have not built madrassas with government money'
Baliyavi appealed to the Muslims and said that if the Muslims do not wake up now, other communities will live with pride, and their children will not even be able to tell their names. He said, 'Kabhi Shah Bano, Kabhi triple talaq, kya nasha chadha hai sir? Our forefathers have given the land for mosques. The land for the madrasas was given by my forefathers. We have not built mosques from the treasury of the government. We have not built madrassas with the money of the governments. We have made madrasas out of Muthia's rice.
We have built madrassas with the money of zakat. We have built madrassas by spreading our arms for Fitra.
'There will be dead bodies in the days to come but…'
Baliyavi said, 'The buildings are our stand today. We have built mosques by demanding one sack of cement, but the bulldozers of some people sitting in power are searching for our mosques like a stray madman, and now the paper is being searched. My dear, what Baliyavi is saying today in Katihar, I am telling my Ulema to listen with open ears. If even now my Ulema do not come to their senses, then in the coming days there will be dead bodies but there will be no one to cover the shroud. You have to wake up, and if you don't wake up then remember, every community of the world will live with pride, your children will not be able to tell their names.'
JDU's Owaisi is becoming Baliyavi!
After the kind of provocative statements Ghulam Rasool Baliyavi has been making in the recent past, he Nitish Kumar The party of JDU has started being called Owaisi. On this, when the question was asked to Ghulam Rasool Baliyavi himself, he said, 'It is as if I have just come on the mission of my Idar-e-Sharia. When I will come on the political platform, those who are good wrestlers will come and talk with their eyes. On the question of being afraid of Owaisi, Baliyavi said, 'The community that only fears God, does not fear anyone.'
'Any Muslim on the road?'
bulldozer On the statement, JDU leader Baliyavi said, 'You have seen, the country has not seen, not one or two, but many mosques have been demolished. I have to say that in the judiciary, the decision is not taken on faith, it is on evidence and proof, what happened in the Supreme Court (in the Ayodhya case)? The Supreme Court said that there is no evidence, no evidence, no proof. We are giving this piece of land to so-and-so (to the Hindu side) on the basis of faith. Any Muslim came on the road against him? Why did not come down, because we also respect the courts of the country.