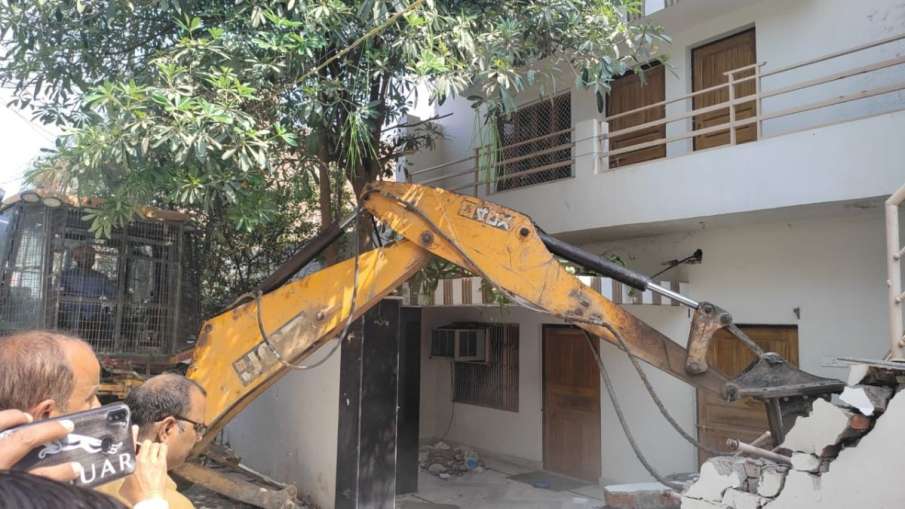 Prayagraj: In Prayagraj, Uttar Pradesh, the administration has taken a big action at the house of close ones of Bahubali Atiq Ahmed. Administration's bulldozer has been brought to the house of Zafar Ahmed, one of Atiq's close friends. Let us tell you that in the former MLA Raju Pal murder case, FIR has been lodged against several people including Atiq Ahmed, his wife and his sons for the murder of witness Umesh Pal. The Uttar Pradesh Police is taking swift action in this matter and has raided many places in search of the accused.
Police said, the house was built illegally
India TV correspondent Ruchi Kumar told that a bulldozer has been fired at Zafar Ahmed's house in Chakia area of ​​Prayagraj, and weapons have also been recovered from his house. He told that first the gate of the house has been broken, and now the rest of the stuff is being taken out from inside. He said that the cost of this house built in about 200 square meters is Rs 2.5 to 3 crores. Ruchi said that ateek Ahmed Shaista Parveen's wife was living in this house. According to the police, this house was built illegally, so it is being demolished.
Administration can take massive action
Ruchi Kumar told that many bulldozers are standing at the spot, in such a situation, it is expected that the administration can take action on a large scale. Please tell that Shaista's name is also registered in the FIR in the case of Umesh Pal's murder. Atiq used to have another house in the Chakia area itself, which had already been bulldozed. This is the reason why the wife of the former MP was living in this house. At the same time, the police killed a person named Arbaz in an encounter on Monday in connection with the murder of Umesh Pal, and also arrested a person named Sadaqat Khan from the Muslim hostel.