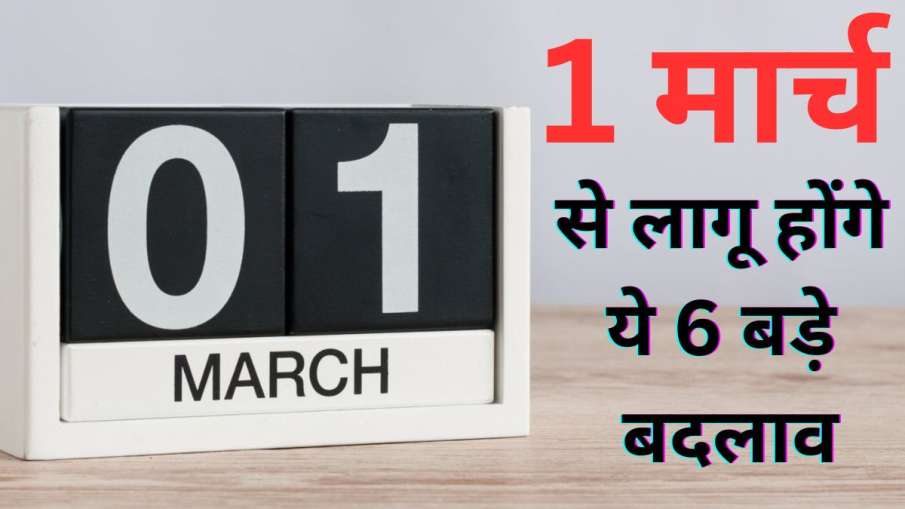 After February, the shortest month of the year, now March is going to start from tomorrow. This month is bringing many big changes related to your pocket and life. You can see a big change regarding LPG prices from the first date of this month itself. Apart from this, you can also get to see a new time table of the railway. Let's take a look at some of these big changes that will happen in March, which is very important for you to know.
LPG and CNG prices will be fixed
Gas companies release their new prices on the first of the month. Companies like Indane announce new gas prices on the 1st and 16th of the month. In such a situation, it is believed that some changes should be made in the prices of gas on March 1 as well. Let us tell you that there was no change in the prices of gas on the budget day i.e. February 1. However, earlier on January 1, there was a change in the prices of commercial gas on the first day of the year. Currently, a 14.2 kg domestic LPG cylinder costs Rs 1053 in Delhi, Rs 1079 in Kolkata, Rs 1052.50 in Mumbai and Rs 1068.50 in Chennai.
2000 rupee note will not come out from atm
If you are also troubled to break the 2000 thick note coming out of the ATM, then the month of March can be a relief for you. The country's leading government bank Indian Bank has taken a new decision which will be applicable from March 1. Under this, customers will not get Rs 2,000 notes from Indian Bank ATMs. For this, customers have to visit the bank branch. Explaining the reason behind this decision, the bank said that after withdrawing Rs 2,000 note from the ATM, the customers come to the branch and take it in retail. To stop this, this decision has been taken.
Railway will start Holi special trains
In view of the rush of people on the festival of Holi, the Railways will give green signal to many new special trains in March. Indian Railways has announced to start several special trains from March 1. With this, there will be a lot of convenience for people working in metros to go to their homes. Let us tell you, the Railways has decided to run special trains on various routes. These trains will run between many routes including Delhi, Madhya Pradesh, Mumbai. Some trains have started operating in this. At the same time, some trains will be operational from March 1, 2023.
bank holiday
The month of March is also important regarding bank holidays. In such a situation, if some of your work is pending in the banks, then first definitely check the bank holiday calendar. Many major festivals like Holi and Navratri are falling in the month of March. For this reason banks will remain closed for 12 days in March. In such a situation, if you have been postponing any work related to the bank for a long time, then settle it immediately.
Railway will change time table
Railways can change the time-table of many of its trains in March. Its list can be released in March. According to media reports, the time table of thousands of passenger trains and 5,000 goods trains can be changed from March 1. In such a situation, if you are preparing to travel in trains this month and want to go on holidays, then you must see the new time table once.
Rules related to social media will change
In the month of March, there can be very important changes for those who use social media. Recently the Government of India has changed the IT rules. Social media platforms like Twitter, Facebook, YouTube and Instagram will now have to comply with the new rules in India. These changes in IT rules will apply to posts that incite religious sentiments. Such users may have to face actions other than fines. These rules may also come into effect from March 1.