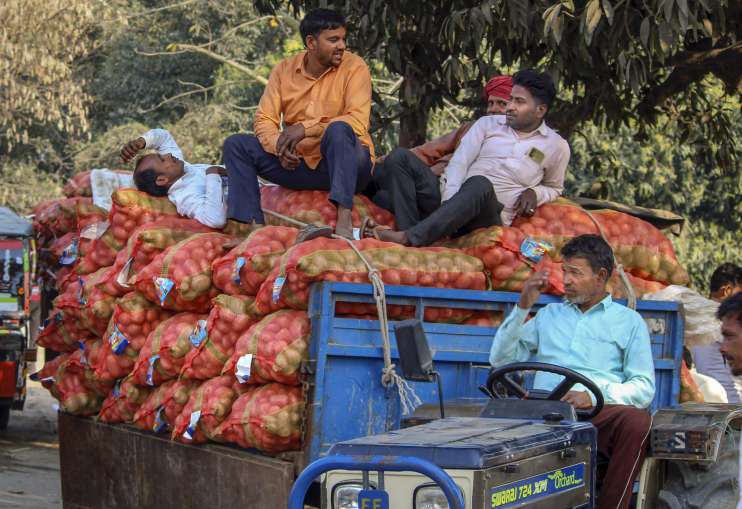 Onion farmers are once again in the news. Onion prices have hit the ground after bumper crop. In Lasalgaon, Maharashtra, the country's biggest onion market, onion is being sold at the rate of Rs 2 per kg. Bringing the farmers to the mandi after the transportation cost is proving to be disadvantageous. In such a situation, angry farmers stopped the auction of onions on Monday in the Lasalgaon Agricultural Produce Market Committee (APMC) due to the continuous fall in onion prices. However, after the assurance of Dada Bhuse, the minister in charge of Nashik, the farmers called off the agitation.
Not getting even 2 rupees price
Asia's biggest Onion In Mandi Lasalgaon, the per kg price of onion has come down to Rs 2 to Rs 4 per kg. Unable to recover even their cost, angry farmers had stopped the auction of onions in the mandi. A representative of onion growers said the government should immediately declare a subsidy of Rs 1,500 per quintal on onions and buy their produce at Rs 15 to Rs 20 per kg, otherwise they will not resume auction at Lasalgaon APMC in Nashik district. Will give
tears of farmers
As soon as the process of auction started on opening of the market on Monday, the minimum price of onion was said to be Rs 200 per quintal while the maximum price was Rs 800 per quintal and the average price was Rs 400-450 per quintal. As a result, angry farmers, led by the Maharashtra State Kanda Utpadak Sangathan, stopped the onion auction and launched an agitation. On Saturday, 2,404 quintals of onion had arrived in this mandi and its price was minimum Rs 351, maximum Rs 1,231 and average Rs 625 per quintal.
Grant sought from the government
Maharashtra State Onion Growers Association leader Bharat Dighole said, "During the budget session of the state legislature, the government should immediately announce a subsidy of Rs 1,500 per quintal for onion and replace it with the present rate of Rs 3, 4, 5 per kg." Onion sold at cost should be bought at Rs 15 to Rs 20 per kg. If these two demands are not met, onion auction will not start at Lasalgaon APMC at all." In the evening, Nashik in-charge minister Bhuse assured the agitating farmers that in the next eight days, Chief Minister Eknath Shinde and A meeting will be held with Deputy Chief Minister Devendra Fadnavis. "If the agitation has been called off, there will be regular auction at Lasalgaon APMC from Tuesday morning," officials said.