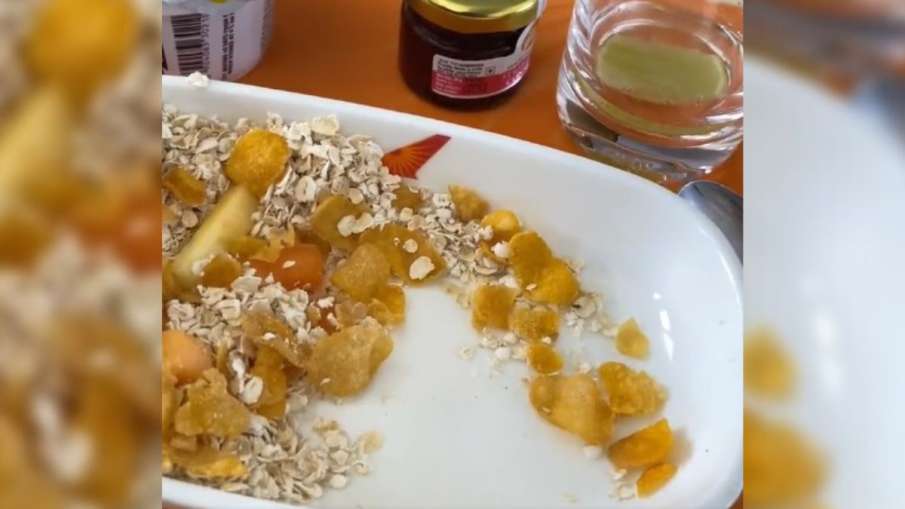 New Delhi: An Air India business class passenger shared a video of a worm he found in his flight's food on Monday. The name of the passenger is Mahaveer Jain and he was traveling from Mumbai to Chennai. While sharing the video, the passenger said, 'It doesn't look like cleanliness was taken care of. My flight was AI671 – Mumbai to Chennai. Seat 2C.'
Responding to the video, Air India tweeted, 'Dear Mr Jain, We are sorry to know about your experience while flying with us. This is not good to hear. We strictly follow measures to ensure hygiene at every stage of the process. Can you please dm the flight details with your date of travel, and seat number? We will immediately take it up with our catering team for review and action.
Let us tell you that on the same day when this incident happened, Chef Sanjeev Kapoor lashed out at Air India for serving unsatisfactory food on its flight from Nagpur to Mumbai. The veteran cookery show host had shared pictures of her meal, which featured chilled chicken tikka, a very filling sandwich and a dessert to be talked about. Criticizing this food, he had said that should Indians really eat this for breakfast?
In a similar incident in January, an Air India passenger claimed that he found a stone in the food served in-flight. Journalist and BBC YouTube head Sarvpriya Sangwan shared pictures of the stone on Twitter and said such negligence by the airline was unacceptable.
Air India has come into the hands of the Tata group after a Rs 18,000-crore deal in January last year and almost seven decades after its nationalization and debt-ridden.
read this also-
Jammu and Kashmir: One terrorist killed in encounter with security forces in Pulwama, body not yet recovered
Punjab: 20-year-old student stabbed to death during brawl in university campus, police get CCTV footage