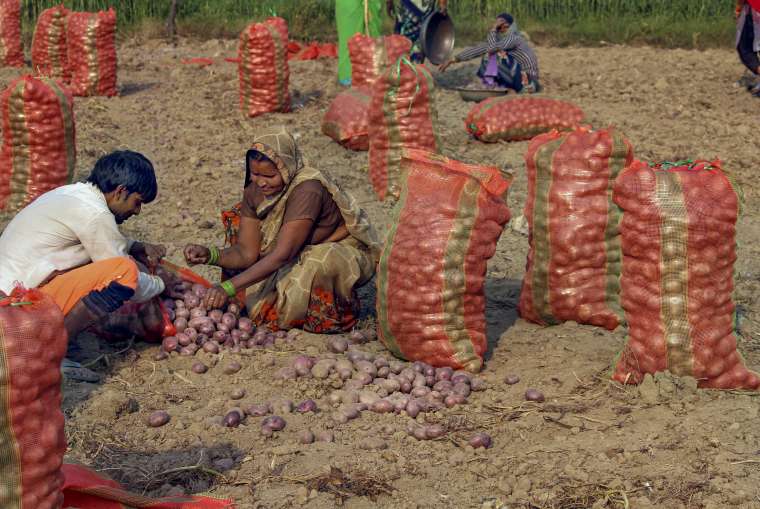 onion crop Once again making the farmers cry. Actually, this time the farmers had increased the yield in the hope of getting a good price for onions. However, it has now had the opposite effect. Due to the increase in the arrival of onion mandis, the price of onion has reached Rs 2 per kg. Due to this, it is becoming difficult for the farmers to recover half the cost of their cultivation. Due to this, the farmers stopped the auction of onions on Monday due to the continuous fall in the prices of onions in the Lasalgaon Agricultural Produce Market Committee (APMC), the country's largest market today. APMC is the biggest onion market in Asia. The per kg price of onion has come down to Rs 2 to Rs 4 per kg, due to which the farmers are worried. He does not understand what to do if he does. Even when the price is high, the middlemen make money. They don't get the benefit of that. Now that the price has come down, no help is being received from the government.
Demand of Rs 1,500 per quintal grant from the government
A representative of onion growers said the government should immediately declare a subsidy of Rs 1,500 per quintal on onions and buy their produce at Rs 15 to Rs 20 per kg, otherwise they will not resume auction at Lasalgaon APMC in Nashik district. Will give As soon as the auction process started as soon as the market opened for the week on Monday, the minimum price of onion was Rs 200 per quintal, the maximum price was Rs 800 per quintal and the average price was Rs 400-450 per quintal. As a result, angry farmers, led by the Maharashtra State Kanda Utpadak Sangathan, stopped the onion auction and launched an agitation. On Saturday, 2,404 quintals of onion reached the APMC and its price was minimum Rs 351, maximum Rs 1,231 and average Rs 625 per quintal.
Still onion in retail market 20 to 25 rupees kg
Let us tell you that even though the price of onion has come down to Rs 2 in the mandis, the price in the retail market is still Rs 20 to 25 per kg. In view of this, Bharat Dighole, leader of the Maharashtra State Kanda Utpadak Sangathan, said, "During the budget session of the state legislature, the government should immediately announce a grant of Rs 1,500 per quintal for onions and it should be given at present 3,4,5 Onions sold at Rs 15 per kg should be bought at Rs 15 to Rs 20 per kg. If both these demands are not met today, then onion auction will not start at Lasalgaon APMC at all." Meanwhile, officials concerned were holding a meeting to resolve the issue, according to APMC sources.