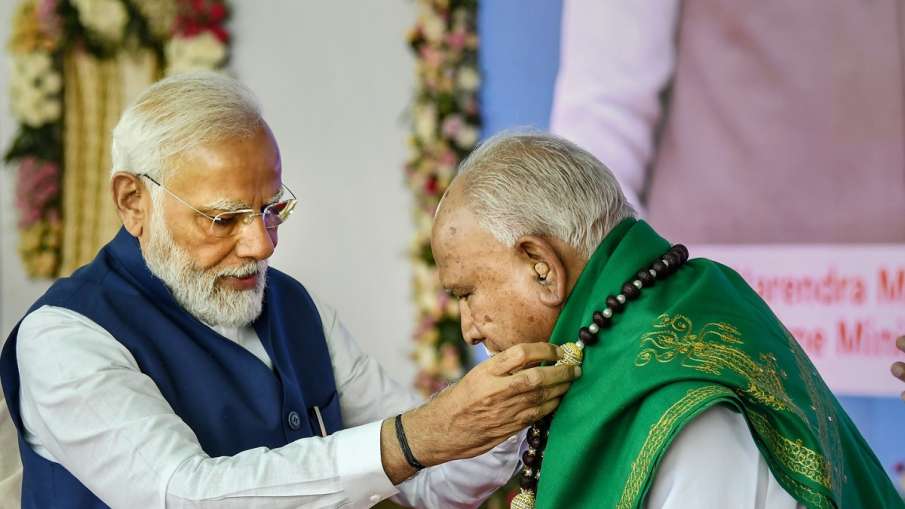 Shivamogga: PM Modi has praised BS Yeddyurappa during his visit to Karnataka today. The PM said, 'Today is a very special day. Today is the birthday of Karnataka's popular mass leader BS Yeddyurappa. I wish him a long life. He has dedicated his life for the welfare of the poor and farmers. Yediyurappa's speech in the Karnataka Assembly just last week is an inspiration to everyone in public life.'
PM said, 'How humility should remain in behavior even after reaching the height of success, this speech of Yeddyurappa is going to inspire his life for everyone like us and also for our future generations. I have a request to you that if you have a mobile phone then take out the mobile phone and start the flashlight and respect Yeddyurappa. Everyone should turn on the flashlight on mobile as a mark of respect to Yediyurappa. Yeddyurappa has spent 50 years of public life and has spent his entire youth for an idea.
PM Modi inaugurated the airport in Shivamogga
PM Modi also inaugurated the airport in Shivamogga today. He said that today Shivamogga has got its own airport, the long pending demand has been fulfilled today. Shivamogga Airport has been made very grand, very beautiful, this airport also shows a wonderful confluence of Karnataka's traditional and technology and it is not just an airport, it is a campaign for the new flight of dreams of the youth of this region. Today, the foundation stone of many projects related to road and rail has also been laid. Work is starting on the project of tap water in every house. I congratulate all the citizens of Shivamogga and all the surrounding districts for every such project of development.
Air India was known for scams during Congress rule: PM
PM Modi also said that you must have seen recently that Air India has made a deal to buy the world's largest aircraft. Before 2014, whenever Air India was discussed, it was often only for negative news. Air India was known for scams during the Congress rule. Used to be in the form of a loss-making business model. Today Air India is flying new heights in the world as the new power of India. Today the sting of India's aviation market is ringing all over the world.
Anyone wearing hawai chappal can also travel by air: PM
The PM said, 'After independence, till 2014, only 74 airports were built in the country, while the BJP government has built 74 new airports since 2014. You can imagine the speed of work of the BJP government. The BJP government, which works for the poor, has done another big job. We decided that even a person wearing slippers can travel by air. That's why started the UDAN scheme which gives air tickets at very low cost.
read this also-
UP: Atiq Ahmed's wife wrote a letter to CM Yogi, fearing encounter of sons, she accused the police
UP: SP MLA Pooja Pal's life threat from Atiq Ahmed! Asked for security after meeting CM Yogi last evening