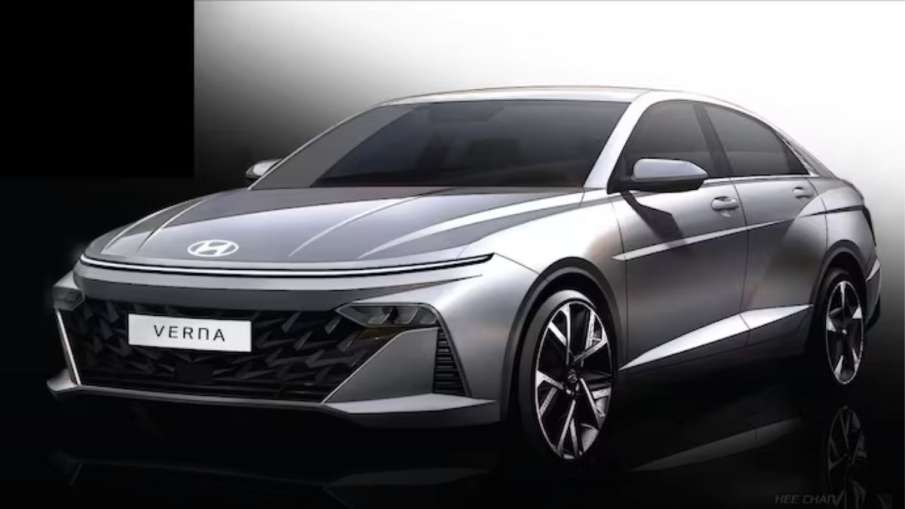 Hyundai New Verna: The design of Hyundai's new Verna has been leaked. It is being praised a lot on social media. It can now be booked for Rs 25,000 by contacting registered dealers or by visiting the company's website. The design of this new model from the company has been revealed, giving us the first glimpse of the three-quarters of the production range of the Hyundai Verna (also known as the Hyundai Accent in some foreign markets). Let me tell you, the company had also presented many of its models at Auto Expo-2023 Noida, out of which some future models were also there. The company's focus is on EV vehicles in the coming times. The Government of India is also making constant efforts to promote EV vehicles. Now slowly its effect is also being seen.
Will be launched on March 21
Hyundai will launch the new Verna on 21 March 2023. According to Hyundai, the new Verna is aerodynamic which gives a great design to a car. The logo of the company has been placed on the front of the vehicle. Talking about the luxury features of the car, it will include a sunroof, controls located on the steering wheel, heated and ventilated seats, a sunroof, headrests, wireless Apple CarPlay and Android Auto and wireless charger. The 2023 Hyundai Verna will be offered in EX, S, SX and SX (O) trim levels. It will be given a sensuous sportiness look.
Preparing to launch in the market with these color options
Abyss Black Pearl
Atlas Black
Fiery Red
Starry Night
Tellurian Brown Pearl
titan gray
Typhoon Silver
The company will offer it in 14 variants
Verna 1.5 MPi MT EX
Verna 1.5 MPi MT S
Verna 1.5 MPi MT SX
Verna 1.5 MPi MT SX(O)
Verna 1.5 MPi iVT SX
Verna 1.5 MPi iVT SX(O)
Verna 1.5 Turbo GDi MT SX
Verna 1.5 Turbo GDi MT SX Dualtone
Verna 1.5 Turbo GDi MT SX(O)
Verna 1.5 Turbo GDi MT SX(O) Dualtone
Verna 1.5 Turbo GDi DCT SX
Verna 1.5 Turbo GDi DCT SX Dualtone
Verna 1.5 Turbo GDi DCT SX(O)
Verna 1.5 Turbo GDi DCT SX(O) Dualtone