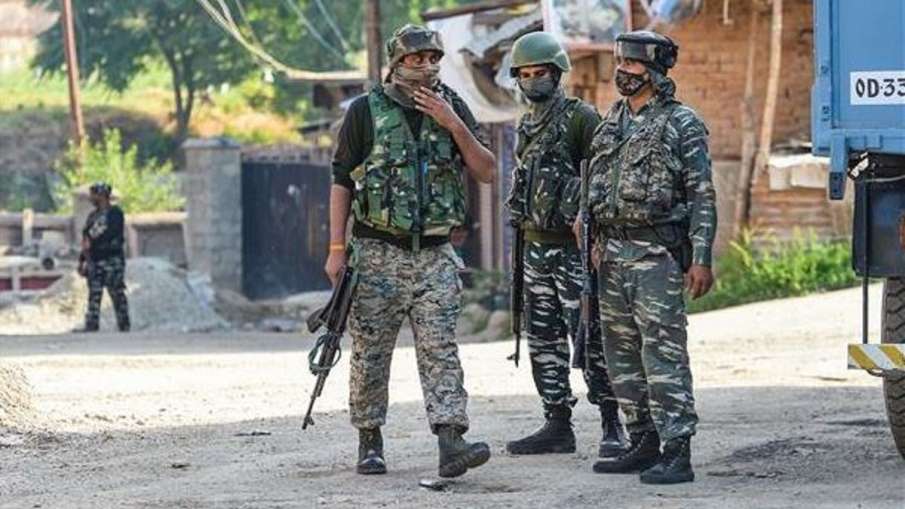 Srinagar: Jammu and Kashmir Lieutenant Governor Manoj Sinha on Sunday condemned the gunning down of a Kashmiri Pandit community man by terrorists and said his administration has given a free hand to security forces to deal with terrorists. Shiv Sena (UBT) workers held anti-Pakistan and anti-terrorist demonstrations to condemn the killing, while the Jammu and Kashmir unit of the Congress said the Center should take adequate measures to prevent targeted killings. The state Congress appealed to the Center to focus on saving precious lives instead of fooling the people by claiming that normalcy has returned to the Valley.
Significantly, Sanjay Sharma (40), who worked as a security guard of an ATM, was shot dead by terrorists in Achan area of ​​Pulwama district of South Kashmir on Sunday. Condemning the attack, the Lt Governor said the administration stood firmly with the bereaved family. "My condolences to the bereaved family," he said in a statement here. The administration has been given a free hand to deal with terrorists and we will continue to counter such acts of terrorism."
Terrorists are continuously killing in the valley – Shiv Sena (UBT)
Activists of Shiv Sena's (Uddhav Balasaheb Thackeray) Jammu and Kashmir unit, led by its president Manish Sahni, demonstrated outside the party office at Channi Himmat on the outskirts of the union territory. Amid anti-Pakistan and anti-militancy slogans raised during the protest, Sahni said, "Terrorists are frequently carrying out targeted killings in the Valley despite the government's claim that the situation is normal". We condemn the killing and demand the relocation of Hindu workers, who have been agitating for the last eight months in Jammu.
Government's duty to protect citizens – Congress
Congress' Jammu and Kashmir unit chief spokesperson Ravinder Sharma condemned Sunday's killing and said the attack was a matter of concern and showed the failure of the government to ensure the safety of innocent citizens. The Congress leader said, "Instead of making hollow claims of normalcy, the government should ensure the safety of minorities and other innocent citizens. Kashmiri Pandit and Dogra employees are protesting in Jammu and the government is forcing them to return to work in the Valley, which is not possible in such an environment."