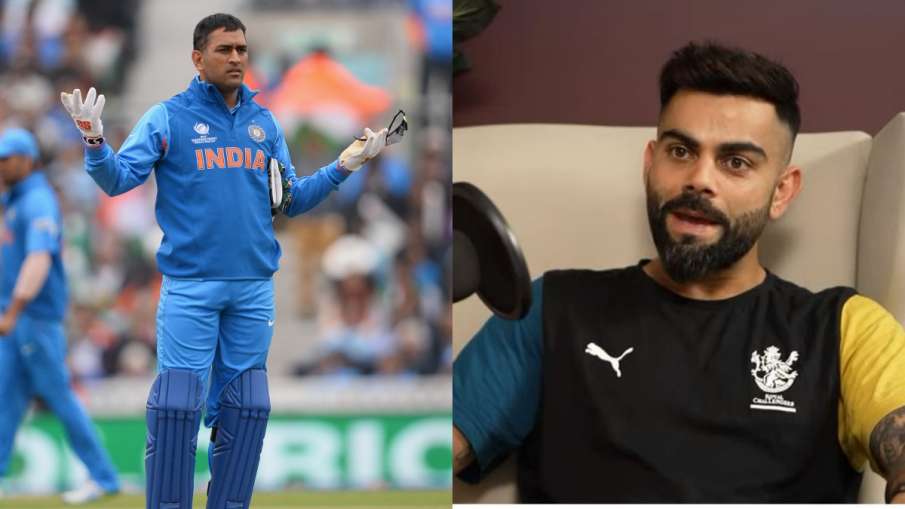 Virat Kohli On MS Dhoni: Virat Kohli is counted among the best batsmen in the world. He has won many matches for Team India on his own. Virat made his debut under the captaincy of Mahendra Singh Dhoni. The relation of both is not hidden from anyone. Now Virat has made big revelations about his cricket career in the podcast of his IPL team RCB. At the same time, he has also said a big thing about Dhoni. Let's know about it.
Virat Kohli said this
Virat Kohli said that apart from wife Anushka Sharma, entire family, childhood coach, Mahendra Singh Dhoni was the only person who became my strength in bad times. Kohli shared the dressing room with Dhoni for 11 years from 2008 to 2019. Kohli said that it is a privilege to know Mahendra Singh Dhoni, because someone is so experienced than you and you get to learn from that person. We respect each other very much. Kohli further said that it is very difficult to contact Dhoni. If I call him, there is a 99 percent chance he won't pick up because he doesn't see his phone. I have spoken to him on the phone twice.
When you are expected to be strong and you are seen as a strong person, people forget to ask how are you? I am telling this here because at some point in your career you want to go to a person who has felt the same way as you. Dhoni had gone through situations like mine before.
Told this match is important
In the year 2012, Team India had lost the first two Tests against Australia. The third Test match was to be played in Perth. The pitch at Perth was very difficult because there was a lot of bounce. At that time I knew that if I did not do well in this Test match, I would not be able to continue in the team and I would not get to play the fourth Test. At that time I was the least experienced player in the team.
India won many matches
Virat Kohli has been the most reliable batsman for Team India in the last decade. He got the Indian team out of difficult situations with his batting. In white-ball cricket, he emerged as the best batsman at no. He has scored 8195 runs in 106 Test matches, 12809 runs in 271 ODIs and 4008 runs in 115 T20 matches for Team India. He has a total of 74 centuries in all three formats. Kohli is the only player from India to play 100 matches in all three formats.
Read also:
Tim Southee created history, no bowler has been able to do this big charisma for New Zealand till date
Rohit Sena will have to be very careful with these 3 AUS players, can break the dream of going to the final of WTC