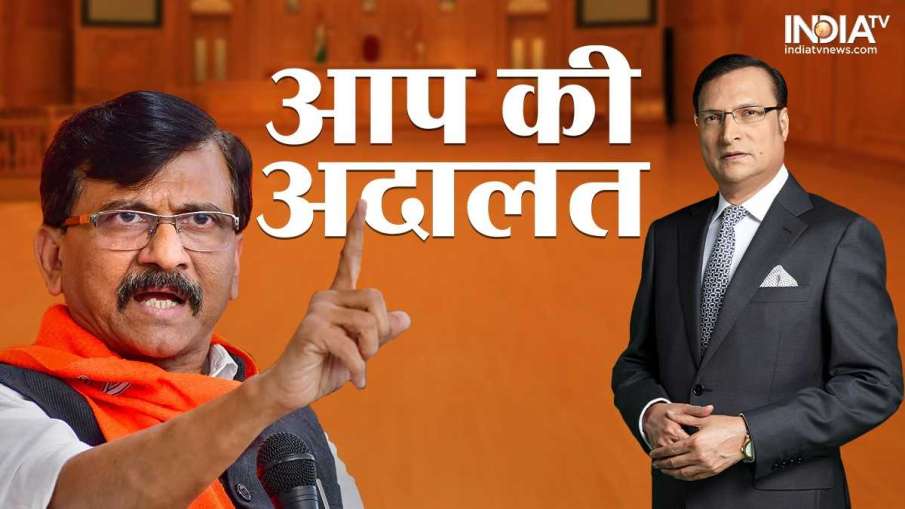 New Delhi: Shiv Sena (Uddhav Balasaheb Thackeray) leader Sanjay Raut says he stands by his allegation that 'Rs 2,000 crore was spent on procuring MLAs' and getting the party's name and symbol as part of the same 'package deal' Was. He said, 'The figure could be even bigger.'
Sanjay Raut said, 'I had said this much that 2000 crores have been spent in the game of Maharashtra politics and Shiv Sena's name and election symbol also come in that package. In Maharashtra, there is a slogan popular all over the country when it comes out of our burnt embers, people say 50 khoches are ok. These 50-50 kiosks means they have bought you by paying 50-50 crores. This is known to the whole of Maharashtra and the country and even those people do not deny it. Now see that if our 50 MLAs are broken, then if we calculate the calculation of 50 kiosks, then it becomes two thousand crores. So what's wrong with that? And on this basis, the Election Commission has seen the majority, which has counted the votes of these 50 people. You can also watch Sanjay Raut answering questions in Rajat Sharma's show 'Aap Ki Adalat' at 10 am today.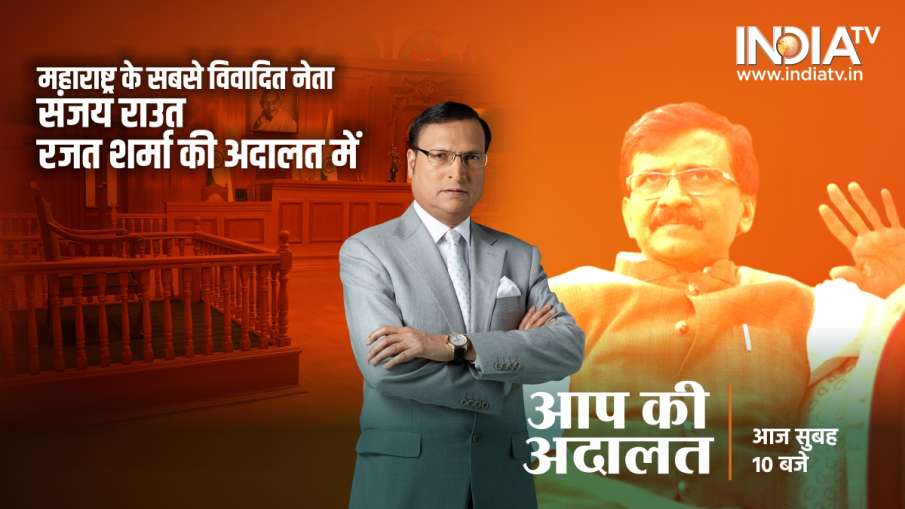 Sanjay Raut in Aap Ki Adalat.
Rajat Sharma: 'So you told the Election Commission that Rs 2,000 crore was spent, then this government was formed?'
Sanjay Raut: 'What the whole country knows, the Election Commission does not know? Every child knows about this country. There are so many scholars in our Election Commission, they should also know.
Rajat Sharma: 'Shinde sahib is saying that Rs 2000 crore is just a matter of saying.'
Sanjay Raut: 'I have taken very few figures. I will tell the real figure and will give the account of all soon.
Last week, Sanjay Raut had tweeted, 'I have concrete information that a deal worth Rs 2000 crore has been struck to acquire the name and symbol of Shiv Sena. This is the initial figure and 100 per cent true. Many things will be revealed. This has never happened before in the history of the country.
When Rajat Sharma said that after the Election Commission's order, his party was more concerned about how to save properties worth Rs 384 crore, Sanjay Raut replied: 'Now Rs 300 crore has no place in this country's politics. What is the figure? You tell me, our party is so old, it has been more than 50 years. For so many years we are in power in Mumbai and in the state, we have worked in the center. So if Rs 300-400 crore has been deposited in the party as a party's fund, then Shinde Sahab does not need to have a stomach ache.
Rajat Sharma: 'They also feel that you are afraid that Matoshree will also be captured?'
Sanjay Raut: 'Look, through the Election Commission, these people have captured the Shiv Sena and our bow and arrow. Take care of them for two-three months, then their strength will be visible. This whole hoax is a game of few days, the real Shiv Sena is in the public, it is in the public.
Rajat Sharma: 'But he has 40 MLAs and 12 MPs?'
Sanjay Raut: See, having 40 MLAs does not make a party. Who made MLA win, who made MLA? Made by Uddhav Thackeray, elected in the name of Balasaheb Thackeray. We all have worked hard, the public has voted for him. These 40 people should come back in the elections and come out victorious, then it will be known where is the real Shiv Sena.
Rajat Sharma: 'Then why are you worried that the name and symbol are gone, if it is Thackeray's brand, then we will use it?'
Sanjay Raut: 'Why won't you run? The Thackeray brand has carried on till today. Shinde is also a product of the Thackeray brand, isn't it? He cannot win except in the name of Thackeray ji.
Sanjay Raut said, Shinde government is doing black magic
The Managing Editor of 'Saamana' alleged that Eknath Shinde's government is dominated by black magic.
Rajat Sharma: 'I read a big sensational editorial in Saamana, in which it was written that witchcraft is used to keep the government of Maharashtra running, lemon pepper and black doll are amazing?'
Sanjay Raut: You go to the public and conduct a survey about this. People should tell you what is going on in Maharashtra. You go to the Ministry or to the CM House to see what is going on. What were you doing in the temple you visited in Guwahati? Who was sacrificed? Everyone knows, what is there to hide in that? You go door-to-door in Maharashtra and ask, what is this witchcraft going on. This is not a tradition in every house of Maharashtra, it is all superstition.
Rajat Sharma: It was written in the article that Supriya Sule's saree was burnt, Ajit Pawar got trapped in the lift, Balasaheb Thorat's shoulder was broken, Dhananjay Munde met with an accident, Sanjay Raut went to jail. All this happened by witchcraft?'
Sanjay Raut: You forgot to read the next line. I had written that such is the sentiment of the people of Maharashtra.
Rajat Sharma: 'So his black magic will end in a few days?'
Sanjay Raut: 'Black magic is black magic. I believe in the magic of Bal Thackeray.
Rajat Sharma: 'Don't you find it a contradiction that on the one hand you are fighting your case in the courts and on the other you are alleging that the judiciary has become the 'mistress' of those in power?'
Sanjay Raut: 'Yes, I wrote it and I believe it. I am not the only one making this allegation. Many big people of the country are also saying that we are not getting justice. I also said that the Supreme Court is the only place left where we see a ray of hope for justice.
Shiv Sena's Uddhav faction leader said that most of the 40 MLAs who had gone with Eknath Shinde were under action by ED, CBI and Income Tax. Raut said, 'Out of the 40 people who left, ED proceedings were going on against 10 people, they were scared. CBI proceedings were going on against 3 of them, 2 people were falling in the income tax trap. Intimidated them and later showed greed for money, and people ran away. What happened to Jyotiraj Scindia in Madhya Pradesh? The same game happened in Maharashtra that happened in Madhya Pradesh, and they were going to do the same game in Rajasthan, Chhattisgarh and Jharkhand. They tried to do this game in Delhi and Telangana as well.
Rajat Sharma: 'But Narayan Rane says that Sanjay Raut met me in Parliament and said many things about Uddhav Thackeray. If I tell that thing to Rashmi Thackeray, she will hit her with slippers.
Sanjay Raut: 'Whom? To Rane? Rane should be killed with slippers only. Such a liar has never happened in the politics of this country. I am sitting in this party. You have left the party thrice. I am loyal to my party and that is my biggest asset, that is my strength. Right now 40 people were our friends, coming in front of me could not see eye to eye. Eknath Shinde himself once said that he used to pull a rickshaw. Where has the rickshaw puller reached? who made it? It was Balasaheb's Shiv Sena.
Rajat Sharma: 'You used to say everyday that these MLAs who have gone will come back. Out of 40, 20 will come and 18 will remain?'
Sanjay Raut: Some people will come to come, but the sword of fear of the people of Delhi is hanging over them. They are afraid of going to jail. Like, 'Go to sleep, otherwise Gabbar will come.'
Rajat Sharma: 'So what is the reason that these 40 people were scared and Sanjay Raut was not scared?'
Sanjay Raut: 'I am not afraid because whatever I have got, I have got from my party. Somebody might shoot me walking down the street. If it is written in my life that I am going to die today then no one can stop me. I have gone to jail. I have full experience of jail.
Sanjay Raut compared Raj Thackeray to Johnny Lever
Show When Rajat Sharma said that Maharashtra Navnirman Sena chief Raj Thackeray's mannerisms are very similar to those of Shiv Sena founder Balasaheb Thackeray, Sanjay Raut Said that comedians and mimicry artists like Johnny Lever and Raju Srivastava can also copy, but no one becomes a leader like this.
Rajat Sharma: 'You have had very good relations with the Thackeray family. You will tell the reason why Raj Thackeray separated from Uddhav Thackeray?
Sanjay Raut: 'His wish. There are two or four brothers in the house, they build separate houses. Everyone should get a chance to work. They felt that I have to do something separately, so let them do it. He formed his own party. If he had formed his own party, he should have run it. Now they have nothing. Sometimes with BJP, sometimes with them. Even Shinde feels that he has the potential to become the Prime Minister of the country. Rane thinks he will become chief minister or prime minister. If you have the ability then go out and show it.
Rajat Sir: Don't you think that when Raj Thackeray speaks in his own style, there is a reflection of Balasaheb Thackeray in him?
Sanjay Raut: Johnny Lever copies everyone. Raju Srivastava used to copy very well. I always see imitation of Sunil Pal. Balasaheb liked these imitations very much. He used to invite everyone and do court. Other people copy Balasaheb, it does not mean that everyone has become Balasaheb Thackeray. When I write like Thackeray, people say that you have become Balasaheb Thackeray. I say, Balasaheb Thackeray is only one. I don't copy.