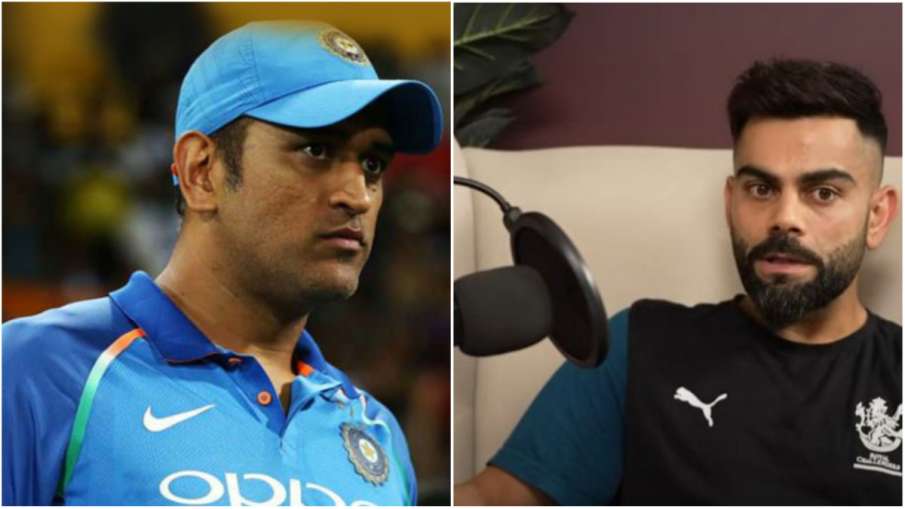 As much as Virat Kohli, he remains in discussion about his batting. Equally, his name often remains in headlines due to the controversy surrounding his captaincy. Recently, the team's former fielding coach R Sridhar told in his book that in 2016-17 Virat Kohli was keen to become the captain in white ball cricket as well. After that the then coach Ravi Shastri had explained to him and asked Virat to wait for the right time. Significantly, MS Dhoni surprised everyone by retiring from Test cricket in 2014 and only then Virat was made the captain in this format. Now Virat Kohli has made a big disclosure in the podcast of RCB (Royal Challengers Bangalore) regarding the captaincy.
He said in the podcast that MS Dhoni had chosen him as his successor. Earlier in this podcast, Virat had also talked about the close relationship between him and Dhoni. He further said that there was nothing strange in getting the captaincy from Dhoni. He knew that the players of Delhi have a good understanding of the game. That's why he chose me. There was nothing else in this. If you are the captain and you have someone in your leadership who can handle the responsibility and also be the vice-captain, it happens.
I was Dhoni's right hand man…
Virat further said on discussing with Dhoni after taking over the captaincy that, I always used to discuss with him and talk about what should be done on the field. Even under his captaincy, I used to give him suggestions on which we used to work. So I was always his right hand man. I always understood the game and we got confidence with him. Also, we used to get confidence even after playing match winning innings for the team. Under his captaincy, Virat Kohli has won India 40 out of 68 Tests, 65 out of 95 ODIs and 30 out of 50 T20 Internationals as captain. Under his captaincy, Team India had also registered spectacular victories in countries like Australia, South Africa, New Zealand and England.
People called me Fail Captain…
Team India's performance under the leadership of Virat Kohli was good in terms of statistics but he could not win the team in the ICC Trophy. He said about this that you play only to win the tournament. We played the final of the 2017 Champions Trophy, reached the semi-finals of the World Cup and also reached the final of the Test Championship. Then people called me a failed captain. But I never judge myself on this issue. When we play as a team, we focus on whether we got it. That's where it matters to me. We focus on culture. Tournaments are for a time but the culture remains forever. You need stability for culture. For this you need more characters than winning the tournament.
Read this also:-