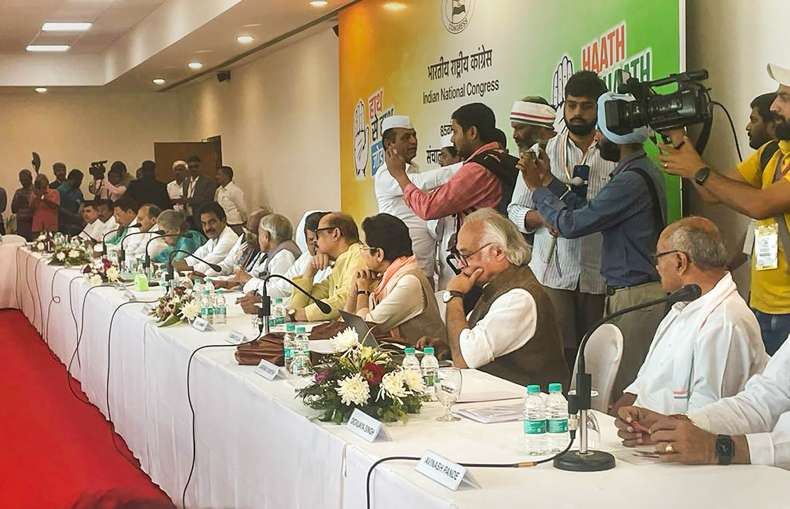 Raipur: The Congress Working Committee on Friday unanimously decided that party president Mallikarjun Kharge will be authorized to nominate members of the Congress Working Committee (CWC). Party General Secretary Jairam Ramesh gave this information. He told reporters that in the meeting of the steering committee, it was unanimously decided that the Congress president should be empowered to nominate the members of the working committee.
He also informed, "We are bringing an amendment to the Congress constitution under which provisions will be made to secure and ensure representation for weaker sections, scheduled castes, tribes, OBCs, women, youth and minority communities."
There is also a provision in the Congress constitution to authorize the president to conduct elections to the working committee or to nominate members of the CWC. In case of elections, out of total 25 members of CWC, 12 members are elected and 11 members are nominated by the party president. The Congress President and the leader of the Congress Parliamentary Party is automatically a member of the CWC.
Earlier on Friday, the 85th General Convention of the Indian National Congress (INC) began at Nava Raipur in Chhattisgarh. All the big leaders of Congress including Rahul Gandhi and Congress President Mallikarjun Kharge attended the Congress Steering Committee meeting on Friday at the Convention Center in Raipur. Earlier, the committee members arrived in two buses.
The important thing was that Rajasthan Chief Minister Ashok Gehlot and Ajay Maken were in the same bus. Differences had cropped up between the two leaders in September 2022 after Rajasthan Congress MLAs defied the party line and held a parallel meeting. Then Maken had resigned from the post in-charge of Rajasthan Congress.