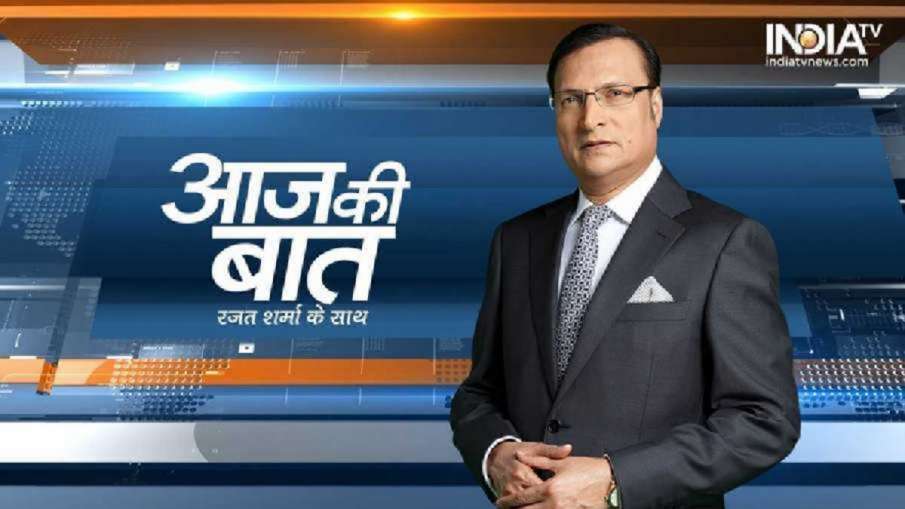 Worrying pictures came from Punjab on Thursday. In Amritsar, a violent mob waving guns and swords raised pro-Khalistan slogans and gheraoed the Ajnala police station. These people were demanding the release of one of their colleague, Lovepreet Singh Toofan. This mob was led by radical Amritpal Singh. When the SP there promised to release Lovepreet Toofan within 24 hours, then the siege on the police station was ended. On Friday, the Ajnala court released Toofan.
These radicals were associated with 'Waris Punjab De', an organization founded by late Punjabi actor Deep Singh Sidhu. Deep Sidhu was a supporter of Khalistan and owed allegiance to 'Sikh for Justice', an organization of separatist Gurpatwant Singh Pannu living in hiding in Canada.
Lovepreet Singh alias Toofan is an accused in a kidnapping case, but on Thursday SSP Satinder Singh succumbing to pressure from hardliners announced that 'based on the evidence given by Amritpal Singh and his supporters, we will release Lovepreet'. The SIT headed by SP Tejbir Singh will investigate the case of kidnapping and assault registered against Amritpal Singh.
In our 'Aaj Ki Baat' show broadcast on Thursday night, we showed a video of hundreds of armed Khalistan supporters carrying guns and swords, breaking barricades and attacking Ajnala police station. Hours earlier, a mob blocked the Delhi-Amritsar highway near the Dhilwan toll plaza in Kapurthala district. Amritpal Singh openly demanded Khalistan and leading a violent mob on Thursday, he told his supporters that he would go to the Darbar Sahib (Golden Temple) after the release of Toofan to thank the Guru.
The visuals of a crowd raising pro-Khalistan slogans in Amritsar are indeed disturbing. More than a dozen policemen were injured in the clash between the fundamentalists and the police. The most surprising thing is that the senior officers of Punjab Police succumbed to the threat of Amritpal Singh. Amritpal Singh threatened to continue the siege if his colleague Toofan was not released. Hundreds of policemen had to run for their lives in front of the violent mob.
Amritpal Singh claims to be a staunch follower of terrorist and mastermind Jarnail Singh Bhindranwale, who was killed during the Indian Army's Operation Bluestar in June, 1984. The video of a man Varinder Singh being beaten up by Amritpal Singh and his supporters went viral. According to the allegations, he was abducted by Amritpal's supporters on February 15. The police had registered an FIR on the basis of Varinder Singh's complaint. In this case, the police had arrested Lovepreet Singh Toofan, close to Amritpal Singh. After which Amritpal along with his supporters surrounded the police station on Thursday.
The question arises that when the police decided to withdraw the FIR, why was the SIT constituted to investigate the incident? Shiromani Akali Dal leader Harpal Singh Baler (Simranjit Singh Mann) spoke to senior police officers on Amritpal Singh's behalf to resolve the matter.
Amritpal Singh is a staunch supporter of Khalistan and was born in Amritsar. He moved to Dubai in 2012. He lived in Dubai for about ten years. Did the business of transport. It was in Dubai itself that he came in contact with the Khalistanis. When he returned to India in 2022, 'Waris Punjab De' became the head of the organization. To say 'Waris Punjab De' is a social organization but in reality it is working to set fire to separatism.
This organization was formed by Deep Sind Sidhu. Let us tell you that this Deep Singh Sidhu is the one who was accused of violence on Red Fort on January 26, 2021 during the farmer's movement. Deep Singh Sidhu had died in a road accident on February 15 last year. After that, Amritpal Singh became the chief of 'Waris Punjab De' in September last year. Amritpal Singh's coronation program took place in Jarnail Singh Bhindranwale's village Rode in Moga district. Amritpal Singh became very active as soon as he took charge of the organization. He is connecting the fundamentalists with his supporters by roaming in the villages.
Amritpal Singh had also warned Home Minister Amit Shah regarding Khalistan. In one of his speeches, he said that Amit Shah talks about crushing those who talk about Khalistan, so he should remember what happened to Indira Gandhi. But later Amritpal said that he had not threatened Amit Shah but his statement was misrepresented.
The important thing is that the violent mob surrounding the police station and attacking the police with guns, swords and lathis is not a small thing. There should be strictness in this matter. The violent mob was also raising separatist slogans. The surprising thing is that Bhagwant Mann's government of Punjab is standing with folded hands in front of such traitors instead of crushing them strictly. Under pressure, she is releasing those who raise slogans of Khalistan. They are not right.
Amritpal Singh is not alone. He is getting the support of Gurpatwant Singh Pannu, a staunch anti-India separatist sitting in Canada. Pannu regularly posts videos disrespecting the Indian tricolor and his supporters keep protesting in Canada and the UK.
Amritpal Singh calls Pannu his role model. Amritpal Singh had threatened Home Minister Amit Shah and talked about doing like Indira Gandhi. The Punjab government did nothing against him. Then Amritpal Singh ransacked the Gurudwaras of Jalandhar, brought the chairs set up for the elderly and the handicapped on the road and burnt them. Even after that, when action was not taken against Amritpal, his courage increased, the Khalistani fundamentalists in Punjab got high.
Surrounding the police station like this is a serious incident. These fundamentalists are trying to spread communal disharmony by provoking the Sikh community. The police officers may have shown their maturity in calming the situation at Ajnala police station, but Chief Minister Bhagwant Mann and his government should understand that going soft on the fundamentalists will not work.
I remember that a year ago Captain Amarinder Singh had said that on the instigation of Pakistan, efforts are being made to vitiate the atmosphere in Punjab once again. Drugs and weapons are being sent from Pakistan and people are being instigated.
The Punjab government should pay heed to that statement of Captain Amarinder and people like Amritpal Singh should be taught a lesson in time. At this time, the Aam Aadmi Party government of the state should deal with the situation very carefully in coordination with the central government. The most important thing is that no one should try to score political points regarding this matter. ,Rajat Sharma,
Watch: Aaj Ki Baat With Rajat Sharma full episode of 23rd February 2023